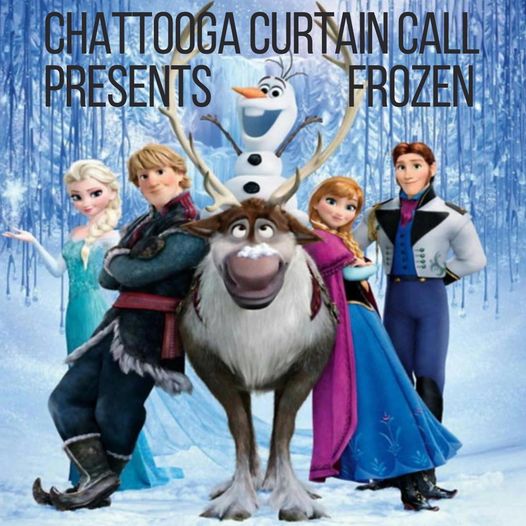 In the 10th season Chattooga Curtain Call will be presenting Disney's FROZEN.
There is a YOUTH musical – FROZEN JR. – that has a cast of students ages 8-18.
Those shows will be August 5th and 6th at 7PM – tickets are $10 (90 minute performance)
The children's show is FROZEN KIDS – ages 4-7. (30-40 minute performance) One show only: Saturday, August 6th at 2pm. Tickets are $5.
All performances will be held at North Summerville Baptist Church.
Tickets can be purchased through a cast member or at the door.
Doors will open 45 minutes before the show.
Frozen Kids Cast List

Young and Middle Anna – Emma Tanner
Anna – Bristol Knapp
Young and Middle Elsa – Ellie Walker
Elsa – Mattie Ruth Kielborn
Hans – Presley Aycock
Kristoff – Laney Dodd
Sven – Drake Housch
Olaf – Daniel Wooten
King – Drake Housch
Queen – Harlow Kielborn
Pabbie – Sadie Smith
Bulda – Lani Michael Willingham
ALL Storyteller parts have been combined into one role we are calling NARRATOR: Libby Dodd
Hidden Folk and Townspeople:
Housekeeper – Gracie Blalock; Butler- Conlee Willingham; Handmaiden – Bonnie Cook;
Cook – Jamison Tanner; Bishop – Lorelai Dodson; additional townspeople – Emma Tanner and
Ellie Walker
Weselton – Harlow Kielborn
Snow Chorus: Addi McCaffrey, Hayden McCaffrey, Millie Blackmon, Bonnie Cook
Frozen Jr. Cast List
Young Anna – Olivia Blankenship
Anna – Pippa Key
Young Elsa – Jayleigh Parker
Elsa – LeeAnna Moseley
Hans – Noah Sullivan
Kristoff – Dalton Kendall
Sven – Anna Sullivan
Olaf – Daniel Moseley
King – Isaiah Sargent
Queen – Kaya Nadu
Pabbie – Maddie Price
Bulda – Lila Groce
Oaken – Anna Willeford
Oaken Family and Hidden Folk: Emme Hankins, Tyleah Fonecia, Lindsey Gorham, Anna Wooten,
Aubree Parrish, Isaiah Sargent
Weselton – Addison Lively
Snow Chorus: Caroline Bierkamp, Agan Salmon, Ella Cate Housch, Kaya Nadu, Olivia
Blankenship, Jayleigh Parker
Bishop/Townsperson: Mylie Barnes
Townspeople: Marcala Ivey, Olivia McGuire, Ella Bullard, Lila Groce, Maddie Price