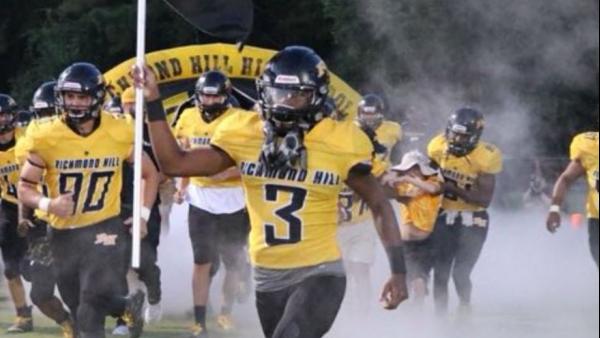 The high school football season will resume Friday night with a couple of matchups between teams ranked in the Southeast Georgia High School Football Power Poll released weekly by AllOnGeorgia.
Here, we will take a look at those games and also the others that will be played this week in Southeast Georgia.
Liberty County at Richmond Hill
The Panthers and Wildcats will square off in one of the matchups featuring teams that occupy spots in the power poll.
Liberty (2-1) is ranked seventh in this week's power poll while Richmond Hill (1-2) is 10th in the poll despite its losing record.
Both teams had an unplanned off week last week when their games were cancelled mid-week due to weather concerns related to Hurricane Florence which ended up going well north of the Georgia coast.
Richmond Hill lost two weeks ago to Camden County at home after losing the previous week in a close game at Wayne County. Wayne is No. 1 in the power rankings while Camden moved to the No. 2 spot this week.
This will be the first full game for the Wildcats without star Aaron Bedgood who has been lost for the season with an knee injury that will require surgery. The senior all-purpose player who played quarterback, running back and receiver for the Wildcats, was injured in the first quarter of the Camden game.
Bedgood finishes his career with 3,553 all-purpose yards in 32 games played. He ran for 741 yards, had 978 receiving yards, picked up 1,207 yards on kick returns and gained 653 yards on punt returns. He also passed for 125 yards and four touchdowns.
Bedgood scored 21 total touchdowns with eight rushing, 10 receiving, two on kick returns and one on a punt return. He is committed to Coastal Carolina.
This will be the 19th meeting between the Panthers and Wildcats. Liberty owns a 15-3 lead in the series, but the schools have not played since the 2015 season.
The Panthers rely heavily on senior running back Kris Coleman who has carried for 703 yards and eight touchdowns thus far this season.
Appling County at Wayne County
These rivals from neighboring counties will clash Friday night in Jesup as they meet for the 48th time overall.
Wayne leads the all-time series 28-18-1. The Yellow Jackets won last year's game 49-14 in Baxley.
The Jackets have started the season with four straight wins and have held the top spot in the power poll for the last five weeks.
Appling moved into the power rankings for the first time this season after evening its record at 2-2 for the young season following a victory last week over Cook. The Pirates' other win came in Week 2 against Charlton County which is sixth in the power rankings.
Appling's losses were to Vidalia (28-20) in the season opener and to Dodge County (14-7), which is ranked sixth in Class AA, in the third game of the season.
Appling is coached by Rick Tomberlin who came out of retirement for the opportunity to coach at his high school alma mater. He has never coached a game against Wayne County in his previous 31 seasons as a head coach.
Pierce County at South Effingham
The unbeaten Bears will return to action Friday with a road game at South Effingham.
Pierce (4-0) was off last week after starting the year with four straight victories including three while holding the opposition scoreless.
The Bears have allowed just 14 points all season and all of those were scored by McIntosh County Academy in the first game of the season.
The first-team defense for the Bears has not been scored on this season.
The Bears are ranked third in this week's power poll.
South Effingham is having a tough season. The Mustangs are 1-3 and have not won since winning 35-0 at home against Long County in their Aug. 17 opener.
The Mustangs lost 37-0 last week at home against West Laurens.
Friday's game will be the final non-region game for the Bears who open their region schedule next week.
Turner County at Charlton County
The Indians opened their Region 2-A schedule last Friday with a 37-12 win over Atkinson County in Folkston.
The Indians (3-1) will be at home again this week as they welcome in region foe Turner County. Charlton is ranked sixth in the Class A public schools poll while Turner is rated 10th. Charlton is also sixth in the power rankings.
Charlton is 8-4 all-time against Turner. The Indians defeated the Rebels 35-14 a year ago.
Brantley County at Berrien
The Herons are still looking for their first win of the season under new head coach Geoff Cannon.
Brantley was off last week. The Herons have lost their first three games to Charlton (43-0), Atkinson County (27-20) and Jeff Davis (34-22).
Bratley will be on the road for the fourth consecutive game to open the season.
Berrien, a Class AA school, is 3-1 through its first four games. The Rebels share a common opponent with Brantley. They defeated Atkinson 29-16 in their second game.
Berrien's only loss was a 41-7 defeat against Irwin County, the top-ranked team in Class A public, in its season opener.
Bradwell Institute at Long County
The Tigers will go for their second win in a row after knocking off Tattnall County last week.
Bradwell (1-3) lost its only other road game this season three weeks ago when they fell 50-0 at Valdosta.
Bradwell senior running back Kevin Harris, who is committed to South Carolina, was named the Southeast Georgia High School Football Player of the Week on Tuesday after rushing for 154 yards and two touchdowns in last week's victory over the Battle Creek Warriors.
McIntosh County Academy at Calvary Day
MCA will hit the road for the first time this season as it looks for its first win, too.
The Buccaneers are 0-3 after losing each of their first three games, all at home in Darien.
A victory over Calvary would be a huge upset for the Bucs. The Cavaliers are 3-0 and are ranked fifth in the state in Class A private.
Saturday's game is the first Region 3-A game for both teams this season.