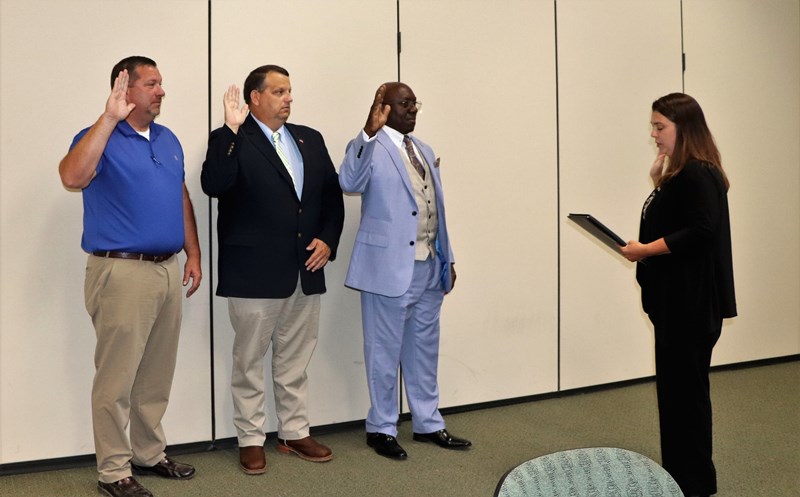 Three new board members were recently appointed to the Coastal Pines Technical College (CPTC) Local Board of Directors by the State Board of the Technical College System of Georgia. Dewayne Johns, Okefenoke REMC Member Service Representative, Jason Rubenbauer, County Manager for Pierce County, and Artie Jones Jr, St. Mary's Council Member were sworn in as official members of the board of directors on July 18, 2019. Crissy Boyles, Magistrate Court Judge in Wayne County presided over the swearing in of the new members.
The CPTC local board of directors serves in an advisory capacity to assist the College in accomplishing its mission. Coastal Pines Technical College's Local Board of Directors is composed of eleven members representing the College's designated thirteen-county service area.
"It is important for the College to have individuals from numerous counties here in Southeast Georgia to help facilitate the delivery of programs, services, and activities, provide advice concerning local industry and community needs, and advocate within the community on issues of importance in support of Georgia's workforce development efforts. Our Local Board members are an important part of the College and we appreciate the hard work they put forth representing their local communities." stated Dr. Glenn Deibert, President of Coastal Pines Technical College.
The CPTC board members represent a variety of business, industry, and economic development backgrounds and bring with them a wealth of experience and wisdom. Board members often communicate community needs to the President and administration; and as a result, CPTC considers its local Board of Directors a vital asset in the quest to fulfill the mission of the College. The local Board meets at least eight times per calendar year, and the actions of the Board are recorded in the official minutes of each board meeting.