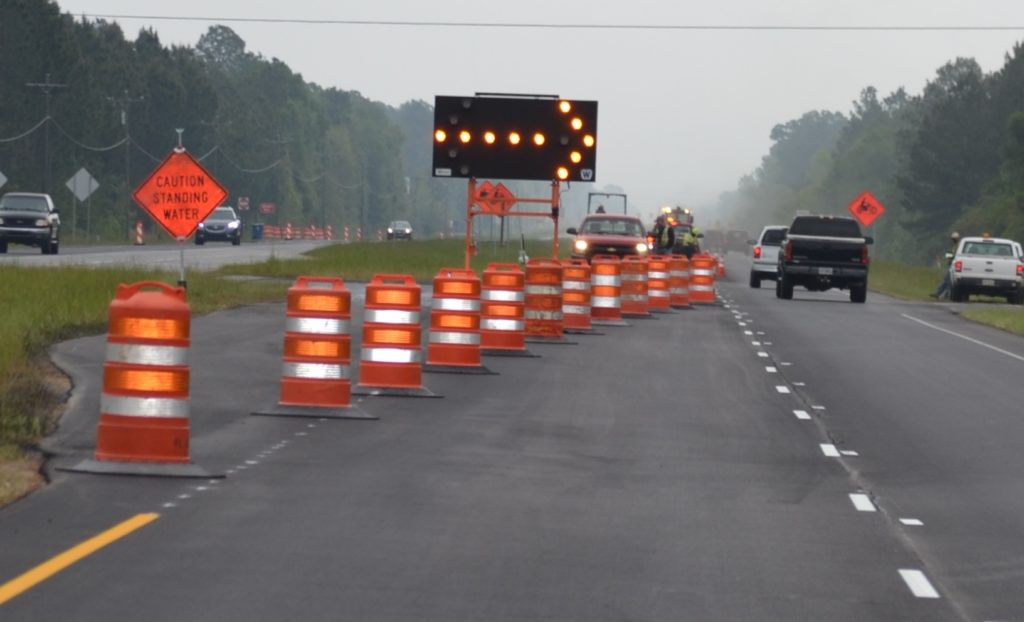 Georgia Department of Transportation continues to improve highway infrastructure throughout Southeast Georgia. As a result, work on construction and maintenance projects will continue this week, Monday, July 22 through Friday, July 26. Major projects of interest that will likely impact traffic are listed below.

All work subject to change due to weather or other factors. Motorists are cautioned to reduce their speed while traveling through work zones, pay attention and watch for workers.
Lane closures are listed below by interstates and counties.
Interstate 95
I-95 Southbound mileposts 86 in Bryan County to 66 in Liberty County
South of Exit 90 in Richmond Hill to south of Exit 67/South Newport
Nighttime Milling and resurfacing Mon. – Sat. 7 pm until 7 am
Single lane closures from 7 pm – 9 pm and 5 am to 7 am
Double lane closures from 9:00 pm – 5:00 am
I-95 at Ardick Road overpass in McIntosh County
Continuous lane closure in both directions
For bridge work
I-95 Southbound in Camden County
St. Mary's River Bridge to Exit 22
Double Lane Closure for Milling and Resurfacing
Sunday through Thursday 7 pm to 7 am
I-95 in Liberty County
Daily lane closures 9 am to 4 pm for Vegetation Removal
Bryan County
SR 144-Widening Project                   
Rabbit Hill Road Closure
Detour via Rabbit Hill Rd. to Port Royal Road
In place until pipe Installment is completed
Chatham County
Island Expressway – Oatland Island Road to Elba Island Road
Single Lane closures for bridge replacement project
Monday through Friday 9 a.m. until 3 p.m.
SR 25 Conn/West Bay Street 
Continuous traffic shift on westbound outside lane
SR 25 Conn/Bay Street 
Bay Street Viaduct Bridge fence replacement project
Day and Night time lane closures Monday – Friday
Effingham County
SR 275 Rincon-Stillwell Rd. to Long Bridge Rd.
Lane shift for concrete sidewalk construction in various areas
Monday – Friday 9:30 am until 2:30 pm
SR 30 Daily lane closures 7 am to 7 pm for Drainage Repairs
SR 119 Daily lane closures 9 am to 4 pm for Drainage Repairs
Glynn County
SR 25/US 17 Sidney Lanier Bridge
Single Lane Closure for Bridge Rehab
Monday through Friday continuous lane closure
Jeff Davis County 
SR 19 RR Overpass
Detour via SR 135 and SR 135 Conn.
Anticipated completion 2020
Montgomery County 
SR 56 Daily lane closures 6 am to 6 pm for asphalt Crack Seal
Ware County
SR 158 between Hutch Lane and Barnes Road
Road closure for three bridges to be replaced
anticipated open to traffic spring/summer 2020