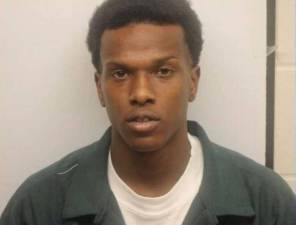 Employee, a veteran, has since recovered
A Savannah man who admitted robbing an auto repair shop and shooting an employee has been sentenced to the maximum term in federal prison.

De'Von Le'Edward Walker, 25, was sentenced to 240 months in prison by U.S. District Judge Stan Baker after pleading guilty to a charge of Interference with Interstate Commerce by Robbery, said Bobby L. Christine, U.S. Attorney for the Southern District of Georgia. Walker, who was on federal supervised release at the time of the robbery, also faces a revocation hearing that could result in an additional period of incarceration. After completion of his prison term, Walker will serve three years of supervised release. There is no parole in the federal system.
"De'Von Walker is a menace who needs to be off the streets," said U.S. Attorney Christine. "We will not tolerate criminals who endanger the lives of law-abiding citizens."
According to court documents and testimony, Walker was wearing a mask when he robbed an employee of a Savannah auto repair shop Dec. 14, 2018. After receiving cash, Walker shot the employee in the shoulder. The employee, a former U.S. Army sergeant with three overseas deployments, struggled with Walker, removing Walker's mask and taking Walker's Glock pistol before Walker fled. The employee later recovered.
Following the robbery, the Savannah Police Department issued a news release that included the suspect's photo, leading to Walker's identification and arrest.
In sentencing Walker to the statutory maximum prison sentence, Judge Baker noted that Walker had multiple prior felony convictions and that, despite only being 25, had managed to amass the highest possible criminal history category attainable under federal sentencing guidelines. Judge Baker also contrasted Walker's criminal actions with those of the law-abiding employee who was working to support his family.
"Walker had a chance to turn his life around while on federal supervised release but instead chose to commit a crime that put an innocent citizen's life at risk," said Chris Hacker, Special Agent in Charge of FBI Atlanta. "Thanks to the efforts of that citizen and our local law enforcement partners at the Savannah Police Department, Walker will go back to prison where he can no longer be a threat to society."
"The sentence in this case shows the determination of the Savannah Police Department to work with our partners at the FBI and the U.S. Attorney's Office to keep criminals who commit crimes involving guns off of our streets," said Savannah Police Chief Roy W. Minter Jr. "We will continue to work tirelessly to investigate and assist with the prosecution of gun related crimes in our neighborhoods."
The case was investigated by the FBI and the Savannah Police Department, and prosecuted for the United States by the U.S. Attorney's Office for the Southern District of Georgia.