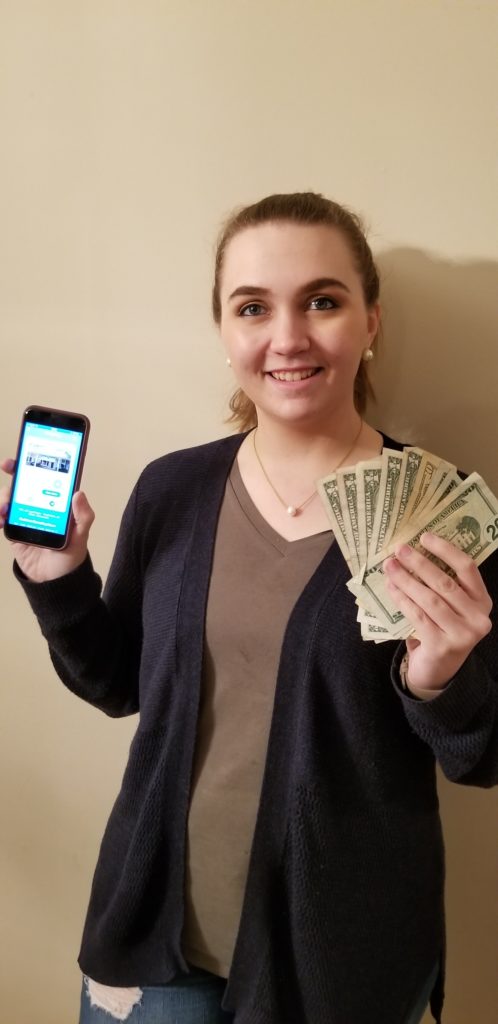 The AllOnBiz coupon app is taking hold in Camden County and AllOnGeorgia recently sat down with two-time cash prize winner Cassidy Tutorow to discuss her prize claims and app usage.
Camden County resident Cassidy Tutorow has been using the AllOnBiz app for nearly three months now. She first heard about the app from customer discussion at Liberty's Barber Shop on Kings Bay Road. She became a subscriber not long after that.
Cassidy says she immediately saw the benefits of the app with her first coupon — Wee Pub- but she enjoys using it at a number of restaurants around the county where she's able to save at least $5 on every purchase.  Tutorow told AllOnGeorgia that her favorite coupon redemption location has been narrowed down to the Barberitos coupon which currently offers a free entree with a purchase. She says she's now in the habit of using the app to guide her on the best places to dine based on what deal is happening that day.
She's always on the go, so as Cassidy travels back and forth from Camden to Glynn counties, she's able to redeem coupons at least once a week. And of course they re-set every 30 days, so the uses are unlimited. But the travel is part of what made her a two-time winner of the AllOnBiz Geo Hunt.
Cassidy, as an app user, was automatically able to participate in the scavenger hunt around Camden County and she's already claimed two prizes, winning her first cash prize near the waterfronts in downtown St. Marys. More recently, she won a [$75] cash prize, which she happened to stumble upon while out Jeeping in the county.  The coupon hints and cash prizes are scattered all throughout the county and there's no cap on how many prizes you can collect, but Cassidy is hoping to hit the $2,500 jackpot. She plans to put the money towards college tuition to become a nurse practitioner.
In the mean time, she's using her app daily as more users join her in the scavenger hunt and more Camden County businesses offer coupons to users.
Download the AllOnBiz app on your mobile device today to participate in the scavenger hunt. Subscribe monthly to support local businesses and receive additional offers.
AllOnGeorgia and AllOnBiz are affiliate companies.