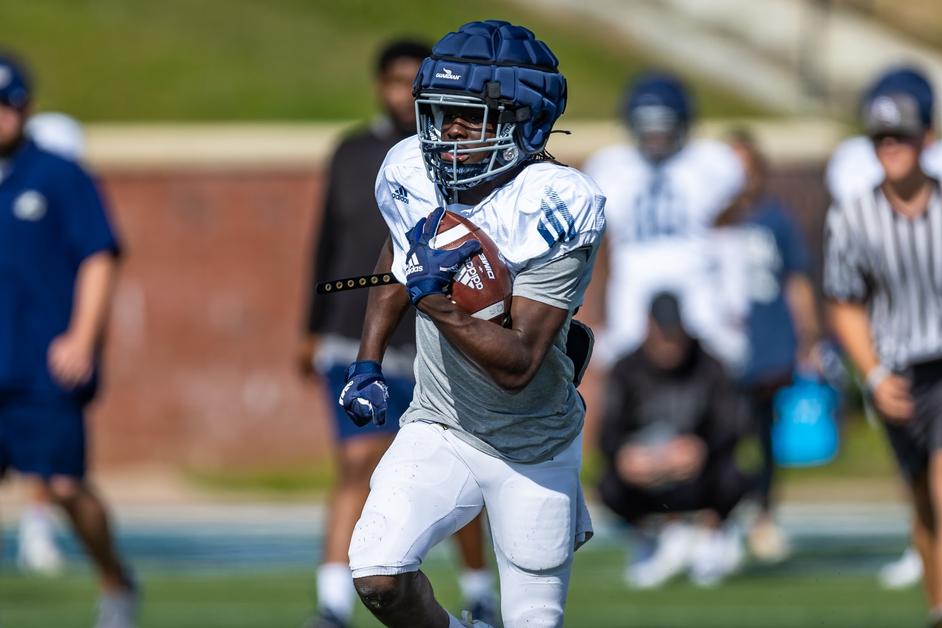 Georgia Southern's Athletic Department says two midyear enrollees are adjusting well to college life and making an impact on the Eagles:

On a football roster that features two players playing their seventh years of college football, two players that could still be in high school are taking advantage of graduating early and enrolling at Georgia Southern this past January.
At 18 years old, wide Receiver DeAndre Buchannon and defensive lineman Branden Palmer may be among the babies on a roster that features 18 players who are 23 years old or older but are acclimating quickly to the college game and making an impact on the Eagles.
"It's been pretty smooth, and I'm loving it up here," Palmer said. "I wouldn't trade it for the world. I'm glad I decided to come up here early. The transition hasn't been hard for me at all. The biggest difference is the lifts. In high school, the lifts were not as productive as they are here. It's way different here. I thought classes would be easier, but I'm easing into everything. I feel like I've gained an advantage coming in where other guys are still in high school."
Head coach Clay Helton said Buchannon and Palmer have shown flashes this spring.
"All of a sudden, you look out there, and BP and DeAndre are being productive in scrimmages," Helton said. "We just had scrimmage one, and you see DeAndre making catches out there and making big plays. And you know, BP is really playing solid football for a freshman."
Buchannon said the most challenging part for him was not knowing anyone here, but he's quickly adjusted to college life and is thankful for his decision.
"The game is a lot faster, so I'm glad I made the decision to come in January," Buchannon said. "The offense we run is exciting, the weather is great, and I love the coaching staff. By coming in early, I know I'm giving myself extra reps on the field and in the weight room while also getting ahead academically."
According to Helton, there are several advantages of coming in early.
"It's a huge academic advantage to be able to have not only a spring but a summer's worth of education to push toward a degree and progress toward degree. That's a reason a lot of guys are getting out of here in three, three and a half years with a degree and also putting a Master's degree on top of it. So you're advancing your education first.
"But then you get the opportunity to be with a Bobby Stiner," Helton continued. "You get an eight-week cycle worth of winter conditioning, and then you go through another eight-week cycle in the summer. You have 16 weeks with him. That advances your body and gets you ready for the college game.
"And then the implementation of systems," he finished with. "You get two training camps and 40 practices, which really prepare you. It's just a lot of knowledge that you gain basically over a seven-month period."
Buchannon, from Atlanta, graduated from Carver-Atlanta High early and enrolled at Georgia Southern in January. He was a first-team all-state selection for the Class 3A as a senior by the Atlanta Journal-Constitution after catching 70 passes for 866 yards and seven touchdowns as a senior. He was also a first-team all-region selection as a kick returner.
Palmer joined the Eagles after graduating from William A. Hough High in Charlotte. He was named to the 2022 Charlotte Observer high school football all-star defensive team and the Queen City 3A/4A all-conference team while taking Defensive Player of the Year accolades. Interestingly, Palmer also served as the coach for the school's powder puff team.
While Palmer and Buchannon are the only two early high school graduates competing this spring, they aren't the only two true freshmen. They are joined by 23-year-old Australian punter Alex Smith, who enrolled at Georgia Southern after dabbling in professional tennis post-high school.
Ultimately, enrolling early at college is a trend that has been around for a while, as more and more players are doing so. David Dallas did it last year, while his brother, Josh Dallas, did not. Others on this year's squad who took this route include Isaac Walker, Tyrell Davis, Caleb Cook and Derwin Burgess Jr. It's a personal choice that comes down to sacrificing the final semester of high school and all that comes with it or getting a jump start on your college career.
"Coming in early allows these guys to have an opportunity to compete come fall," Helton said. "It also puts them in a great mind frame and physically, puts them in a great place to compete."
Buchannon and Palmer will be joined by the rest of the freshman class in June, but for now, they continue to learn the tricks and trade of college life one day at a time.
The Eagles will return to the field on Saturday for the second scrimmage of the spring season. The Spring Game, presented by Morris Bank, Southern Exchange and Savannah Airport, will be on April 22 at noon.
Below is the full schedule for the remaining of camp, subject to change due to weather or other unforeseen factors:
Week 4
Sat., April 5; 11 AM
Week 5
Tues., April 18; 9:30 AM
Thurs., April 20; 9:30 AM
Sat., April 22; 12 PM; Paulson – SPRING GAME PRESENTED BY MORRIS BANK, SOUTHERN EXCHANGE AND SAVANNAH AIRPORT; ESPN+
While practices are open to the public and media, we ask you help us keep a competitive advantage by not posting videos and detailed information (including injuries) from practice on social media.
---
Georgia Southern Athletics / gseagles.com