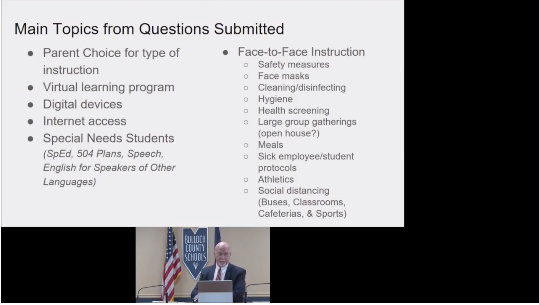 On Thursday, July 2, at 9 a.m., Bulloch County Schools' Superintendent Charles Wilson hosted the first of a series of question and answer livestream sessions with parents and the community.


The school district received more than 700 questions from the public via an online form that was made available to any interested persons on June 29.  Superintendent Wilson and his team categorized the questions into key topic areas, and he addressed these during the livestream.
Nearly 500 people logged into the live session. An archived video of the first session is posted for the public onthe school district's website and to the district's Facebook page.
The second livestream session is scheduled for Monday, July 6, at 3 p.m.
Continue to pre-submit your questions to a public form (https://bit.ly/38c81dV). You may watch the Monday, July 6, livestream on the school district's website at www.bullochschools.org/boardlive or watch it's archived video later that day on the same site or our Facebook site.