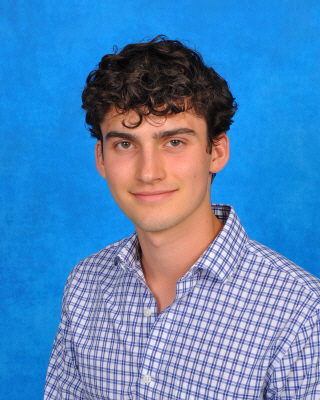 David Lippincott, a rising senior at Statesboro High School, was selected for Georgia's Governor's Honors Program in mathematics. Bulloch County Schools nominated 14 students for the program this year. Eight of the 14 were selected as state semi-finalists, and of those Lippincott was a state finalist and three were named state alternates: Jace Currin of Portal Middle High School, and Sara Thomas and Lucas Thompson of Southeast Bulloch High School. Over 3,100 students from across the state applied and were nominated by their school districts to the prestigious state level competition and nearly 1,600 of them were selected as semi-finalists for the state interview and audition process to name finalists and alternates.


State Finalist David Lippincott is the son of Dr. Lincoln and Elizabeth Lippincott of Statesboro. The accomplished young mathematician credits his third-grade math coach at Julia P. Bryant Elementary School,Estelle Newkirt, for his interest in the subject.
"I've had many wonderful math teachers and math team coaches since then," Lippincott said. "My love for music rivals my love for math, but it was Ms. Newkirt who fueled my love of math."
Newkirt, now an educator in Burke County, was a math teacher and math team coach at JPBES, and the founder of the school district's annual Reginald Dawson Memorial Math Tournament for third- and fourth-grade students.
Ironically, Lippincott, who took six Advanced Placement courses at Statesboro High this year, didn't have a single math class, but he was still on the school's math team. As a dual-enrolled student at Georgia Southern University, Lippincott has also completed Calculus I & II, Differential Equations, and an interesting independent research study in Calculus on manifolds with his Calculus II professor,Dr. Yi Lin. Normally a graduate or upper level course, Lippincott was interested in research and was thankful for the opportunity his professor gave him to complete the one-on-one field course.
In the summer of 2019, Lippincott studied at Harvard University, where he enrolled in a Number Theory course. He enjoyed the experience there but he hasn't narrowed down his college choice or field of study quite yet as he has many interests, which also include history, political science, music, and fitness.
He won first-place in Extemporaneous Speaking as a first-time member of the Statesboro High Literary Team. He is a two-year member of Model United Nations and a member of the National Honor Society.  Lippincott is also an avid fitness enthusiast. He's a member of both the Statesboro High Swim Team and Cross Country Team.  He has also participated in Cross Fit for several years and placed in regional competitions and the Cross Fit Open.
He still finds time for his second passion, music. He plays the piano and performs with the Statesboro First United Methodist Church Praise Band and its Youth Band on Sunday nights. He also volunteers to play for community events and at local nursing homes. For fun, he plays in a few bands with friends where they get together to perform.
While Lippincott was selected for the prestigious state program which was to take place at Berry College for four weeks this summer, public health concerns due to COVID-19 caused the Governor's Office of Student Achievement, who manages the program, to cancel the event. Lippincott did have positive memories from his finalist interview where he had the opportunity to talk about mathematics proofs and theories and even work problems and solutions with one of the mathematics interviewers.
"I love the challenges and intricacies of math," Lippincott said.
Bulloch County Schools' Semi-finalists & State Alternates
These are the semi-finalists, alternates, and their academic and fine arts expertise areas for which they were nominated and selected.
Portal Middle High School
Jace Currin, State Semi-finalist & Alternate in Music/Drums·
Jenna Goodson, State Semi-finalist in Visual Arts.
Southeast Bulloch High School
Sara Thomas, State Semi-finalist & Alternate in Agricultural Research, Biotechnology,and Science·
Lucas Thompson, State Semi-finalist & Alternate in Music/Voice – Tenor
Statesboro High School   
David Lippincott, State Finalist in Mathematics
Bailey Borck, State Semi-finalist in Visual Arts
Mary Hayden Hughes, State Semi-finalist in Communicative Arts
Evy Shen, State Semi-finalist in Communicative Arts.
What is the Governor's Honors Program?
The Governor's Honors Program is fully funded by the Georgia General Assembly. It is a free residential summer program for gifted and talented rising high school juniors and seniors. Administered by the Governor's Office of Student Achievement, it takes place on the college campus of Berry College.  This year would have marked the 57th summer, making it the longest continually running program of its kind in the nation.