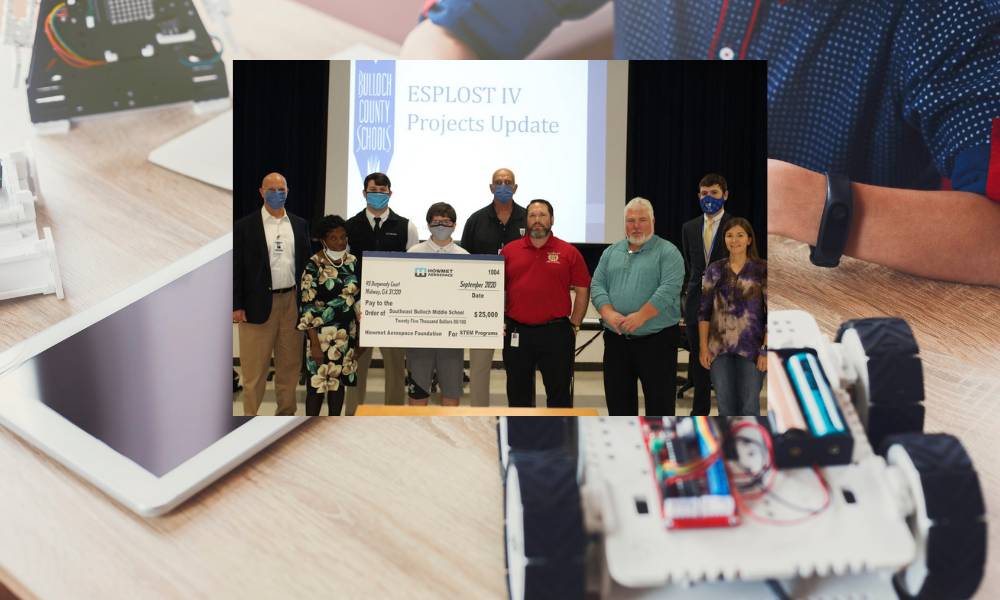 Southeast Bulloch Middle School (SEBMS) received a $25,000 grant from the Howmet Aerospace Foundation to bolster its STEM education program. The largest of four middle schools in a rural, public school district in Bulloch County, Georgia, near Savannah, the school has a dedicated STEM lab and instructor to provide an exploratory course option for its 826 students. The Howmet Aerospace Foundation seeks secondary schools (K-12) to apply for its competitive grants, particularly those like SEBMS who want to expand learning opportunities in science, technology, engineering, and mathematics and help foster student interest in STEM-related careers.


"Derrick Mathis, our school's STEM Lab teacher, is already investing in more relevant technology and hands-on learning experiences for our students," said Brad Boykin, principal of SEBMS, as he addressed the eight-member Bulloch County Board of Education (BOE) at its meeting on November 13, where executives from Howmet Aerospace and school administrators gathered for a ceremonial check presentation. "Mr. Mathis has purchased some state-of-the-art 3-D printers, drones, virtual reality headsets, robotics kits, soldering stations, audio visual and film production supplies to enhance our students' daily video news broadcasts, and more," Boykin added.
Bulloch County Schools provides STEM labs in each of its nine elementary schools and four middle schools. At the high school level STEM is infused into academic core classes, specialized career pathway courses in the district's Career Technical & Agricultural Education (CTAE) program, and in multiple student technical organizations like SkillsUSA, the Technology Student Association, the Health Occupations Student Association, and the National FFA Organization which have student chapters at each of the system's three high schools. The school district has also worked to establish opportunities for practical application of STEM skills by establishing a regional, annual student technology fair 10 years ago for grades 3-12, and working with local industry and post-secondary institutions to establish apprenticeship, dual-enrollment, and research opportunities in STEM fields.
"We really appreciate the support of companies like Howmet Aerospace and their foundation," said Charles Wilson, superintendent of schools. "This kind of support can really make things happen."
"This is a perfect example of what great partnerships in the community can do to help us achieve so much more," said Cheri Wagner, the Board's District 1 member.
Ivey Goodman, a senior mechanical drafter with Howmet Aerospace's Midway, Georgia, facility, and James Evans, its procurement operations manager, made the ceremonial check presentation.  Both live in Bulloch County, and Evans' son attends SEBMS.
The Howmet Aerospace Foundation is an independently endowed charitable unit of Howmet Aerospace. It grants more than $7 million annually to schools and nonprofit partners around the world. STEM, technical education, and workforce development initiatives are a particular funding focus, along with an emphasis on increased access to STEM fields for underrepresented individuals. Howmet Aerospace is an innovative international company that creates high-performance engineered solutions for the world's leading manufacturers in the aerospace and automotive industries.