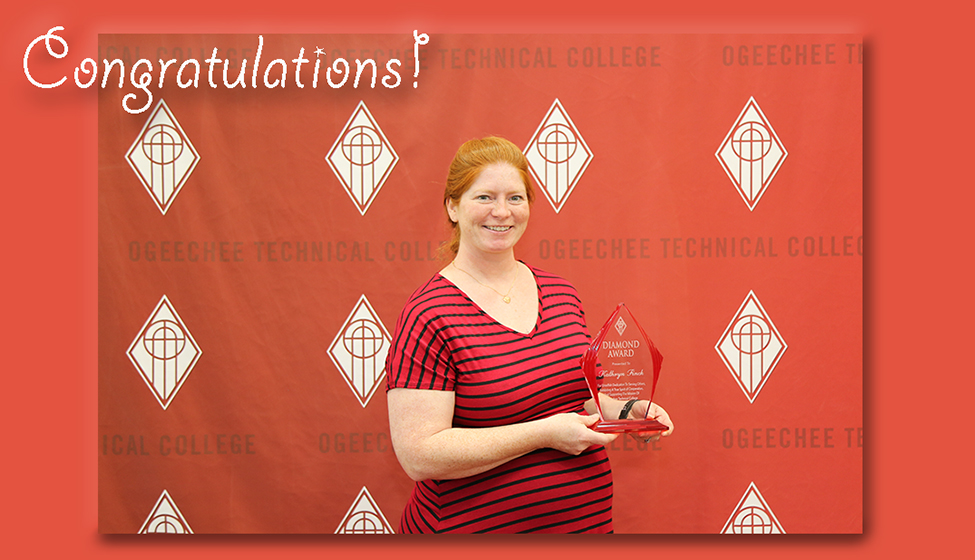 Ogeechee Technical College awarded Kathryn Finch, Director for Institutional Research and Planning, with the Diamond Award at the annual spring faculty and staff meeting:


The Diamond Award recognizes and honors an exceptional employee who goes the extra mile and exemplifies excellence in such things as customer service, innovation, improved efficiency, a positive attitude, teamwork, community service and exemplary service to the College. All employees of the College are eligible for this award, including part-time employees, and are nominated by their colleagues.
"I really love working for Ogeechee Technical College, it is the best career move I have made," said Finch. "I really enjoy what I do and working with each and every one of you, in an accredited program or not, I love the people I work with."
As Director for Institutional Research and Planning, Finch is responsible for supporting the philosophy, goals, and objectives of the Institutional Effectiveness division in the evaluation, planning, and budgeting system to assure quality programs and services for the college. One nominator wrote, "She is that quiet reassuring force that faculty must have as we prepare and conduct accreditation site visits. During [an accreditation visit] she stayed in our area and was on the ball if we need any documentation."
Finch who has been working at Ogeechee Tech since July 2019, was previously serving as the Quality Manager at East Georgia Healthcare Center (EGHC). She owns a Masters of Public Health and a Bachelor of Science in Education with an emphasis in Health and PE from Georgia Southern University.
---
 Ogeechee Technical College