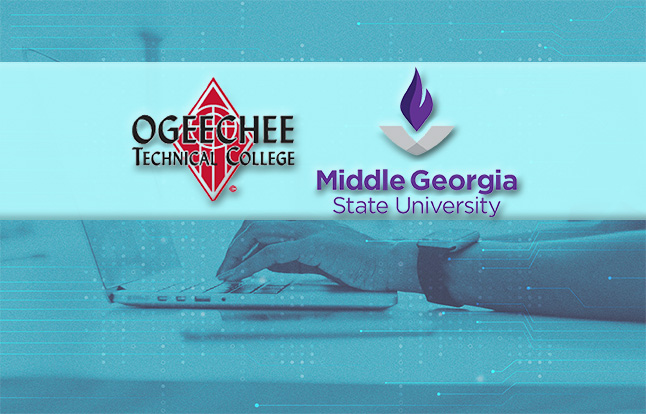 Ogeechee Technical College (OTC) and Middle Georgia State University (MGA) recently signed an agreement to create seamless transitions for students pursuing a career in Information Technology.


The agreement is designed to facilitate the transfer of credits earned in the Cybersecurity Associate of Applied Science (AAS) degree at OTC to the Bachelor of Science in Information Technology at MGA.
"Many of the students that graduate from Ogeechee Tech choose to continue their education by pursuing a bachelor's degree in a related field," said LeAnne Robinson, Dean for Academic Affairs at OTC. "This agreement helps provide that seamless transition into a 4-year institution and allows them to take what they've learned at our college and expand on it. Cybersecurity and Information Technology offer diversified career paths and this partnership goes a long way to supporting our regional workforce."
Effective February 1, 2022, MGA began accepting the general education and major field courses for transfer as detailed in the articulation agreement between the University System of Georgia and the Technical College System of Georgia institutions.
"We are excited to partner with Ogeechee Technical College and provide a pathway for students to become lifelong learners," said Dr. Kevin Floyd, Associate Dean for the School of Computing at MGA. "This partnership will make it easier for students to pursue a bachelor's degree and ultimately a career in information technology. We also look forward to working collaboratively with Ogeechee Technical College CIST faculty and current students on teaching and outreach projects."
---
About Ogeechee Technical College:
Ogeechee Technical College (OTC) is a unit of the Technical College System of Georgia. OTC provides student‐centered academic and occupational programs and support services at the associate degree, diploma, and certificate levels. OTC utilizes traditional and distance education methodologies in state-of-the-art facilities while supporting adult education, continuing education, and customized business and industry workforce training.
About Middle Georgia State  University:
Middle Georgia State University (MGA) serves students on campuses in Macon, Cochran, Dublin, Eastman, and Warner Robins, and through a variety of online degree programs. Students can choose from dozens of programs – including business, contemporary musicianship, nursing, information technology, media and communication, and respiratory therapy – that lead to bachelor's degrees. MGA also offers professional master's degrees in cybersecurity, nursing, management, secondary education, public relations and more, as well as a doctorate in IT. The University is home to Georgia's flagship School of Aviation – based on the Eastman campus – and a four-year degree in flight. mga.edu
---
OTC