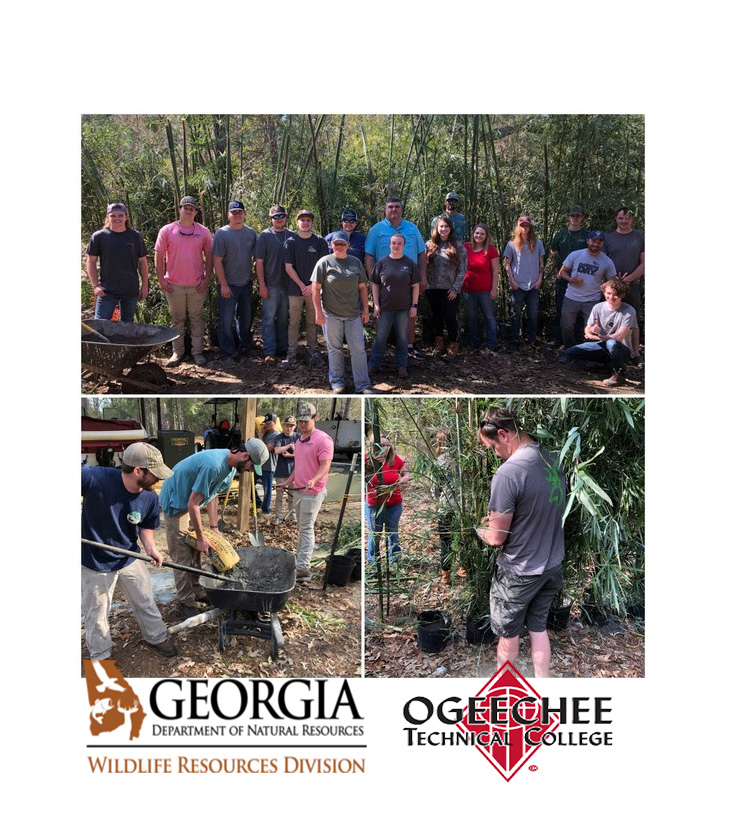 Students from Ogeechee Technical College were recently part of Georgia Department of Natural Resources' spring volunteer program. The group went to the Evans County Public Fishing Area (PFA) for the day to build fish habitat, specifically Crappie Condos.


According to DNR's Wildlife Resources Division, it's been discovered that Bamboo or "Giant Cane" is an excellent material for building fish habitat, also referred to as "Fish Attractors". They call them "Crappie Condos" because these habitats make excellent cover for young crappie and other species to feed around and hide in while they grow up. Natural habitat or cover is vital for newly hatched crappie and other species to survive to reproductive age and catchable size.
The division says the "goal is to provide crappie and other game fish with the beneficial habitat that will accommodate their needs at all season and depth ranges. Thank you to all the students from Ogeechee Tech for their hard work and dedication to our volunteer program".
About Evans County PFA: Evans County Public Fishing Area is a 372-acre area that offers 3 different lakes for anglers to fish for Largemouth Bass, Bluegill, Brown Bullhead, Redear Sunfish, Channel Catfish, and Crappie. Lakes Longleaf, Wood and Bidd Sands attract more than 5,000 anglers each year with an additional almost 4,000 guests visiting the PFA. Bidd Sands Lake offers the best opportunities for anglers to get their hands on some bass in the upper end of the lake during the warmer months along with great hybrid bass. Lake Longleaf is best for Crappie halfway through November to March.