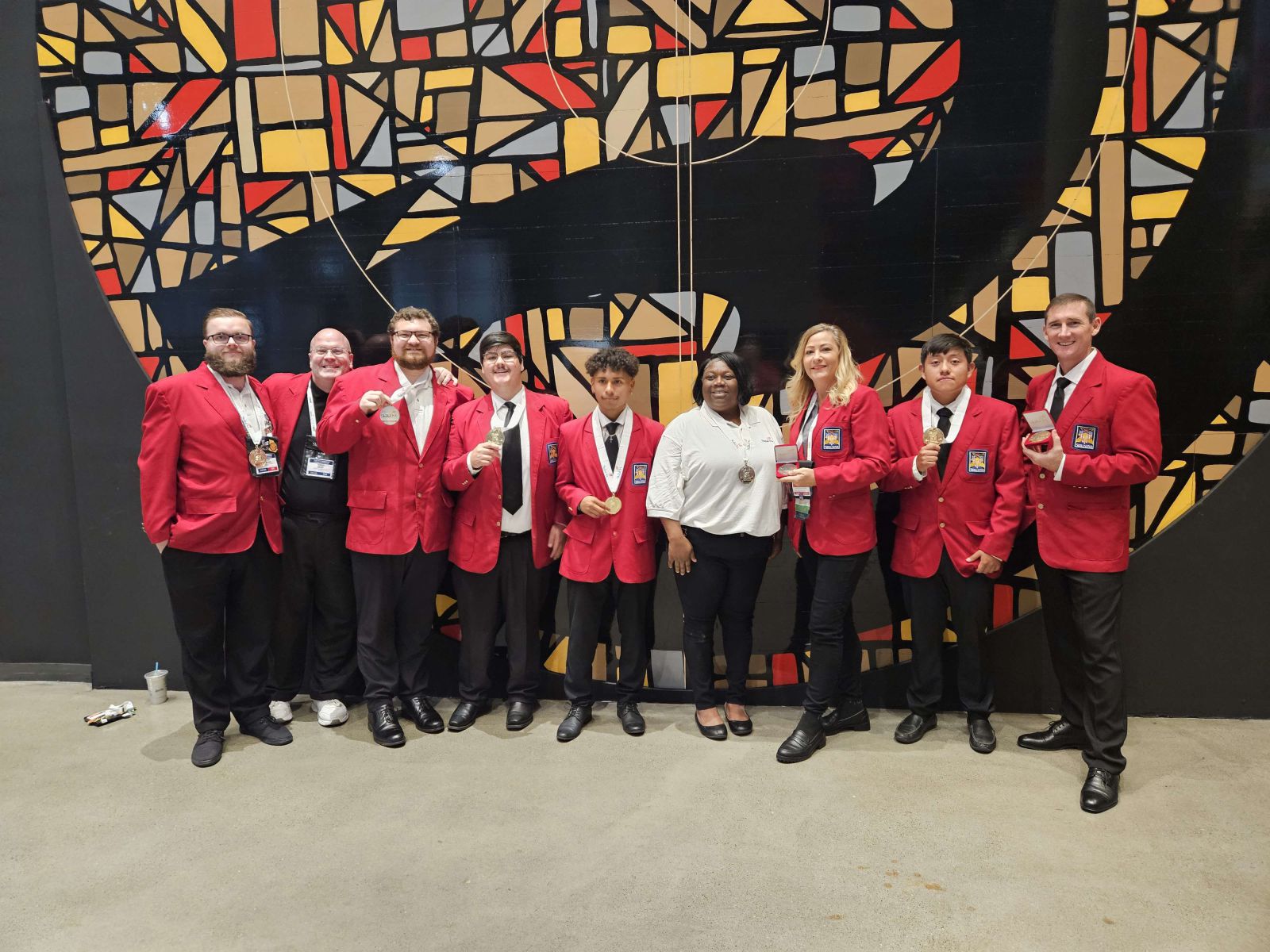 Three Ogeechee Technical College (OTC) SkillsUSA teams won medals, two gold and one silver, in Career Pathways (Industrial and Engineering Technology), Cyber Security, and Early Childhood Education at the national SkillsUSA Championships held in Atlanta on June 20-22, 2023.


The annual SkillsUSA conference was a showcase of career and technical education where more than 6,000 outstanding career and technical education students — all state contest winners — competed hands-on in 110 different trade, technical and leadership fields. During the competition, the students worked against the clock and each other, proving their expertise in their respective fields. All contests are run with the help of industry, trade associations and labor organizations, testing competencies set by industry for entry-level workers.
Career Pathways – Industrial and Engineering Technology
OTC students Adair Baltazar-Montoya, Tony Hernandez, and Justin Hall competed and won gold in the Career Pathways – Industrial and Engineering Technology competition.
"I am incredibly proud of these three individuals for representing OTC, our local community, and the construction industry in the Career Pathways Showcase," said Jeffry Roberson, Construction Management Instructor. "A lot of energy and sweat went into hanging 1,200 square feet of gypsum board in the Georgia September heat for this unprecedented achievement."
In a team of three, student teams used their course of study as the basis of a project that benefit their class, school, community or industry. This competition judged mastery of their training, its application, the project's benefit to their community, and display and presentation techniques. The OTC students competition entry was based on the 1,200 square feet of sheetrock they installed at Habitat House #59 in Statesboro.
Cyber Security
OTC students Justin Clenny and Dalton Flanders competed and won gold in the Cyber Security competition.
"From day one each of these students has stood out showing an amazing passion for their studies and demonstrating strong work ethic, leadership, and teamwork," said Terry Hand, Cybersecurity instructor. "They are both incredible individuals and I am honored to have been their instructor."
As a team of two, the competition is open to active SkillsUSA members enrolled in programs with Cyber Security, Information Security, or Systems and Networking Security Architecture. Students were tested on the elements of the NIST Publication 800-181 Cybersecurity Workforce Framework categories including Securely Provision, Operate and Maintain, and Protect and Defend.
Early Childhood Education
OTC student Bethea "Bea" Gregory competed and won silver in the Early Childhood Education competition.
"Bea is a mother of four, a grandmother, works full-time, and is full-time student at OTC. Her journey over the last year with preparation, training, practices, meetings, long days, networking, and traveling to competitions all led to her moment of excellence winning a medal in her field," said Paula Clifton, Early Childhood Care and Education instructor.
Competitors demonstrated their knowledge of developmentally appropriate practice and their ability to prepare and implement learning activities for children three to five years old. Competitors prepared a written lesson plan and took a written test assessing their knowledge of child development and effective teaching strategies.
A total of 1,250 gold, silver and bronze medals were presented to students on Friday night, June 23 at the SkillsUSA Awards Session at State Farm Arena. Many winners also received industry prizes, tools of their trade or scholarships. The medalists and contestants who met a threshold contest score for their event as an indicator of proficiency also received a Skill Point Certificate representing workplace readiness in the student's occupational specialty. Students can add the certificate to an employment portfolio.
---
OTC