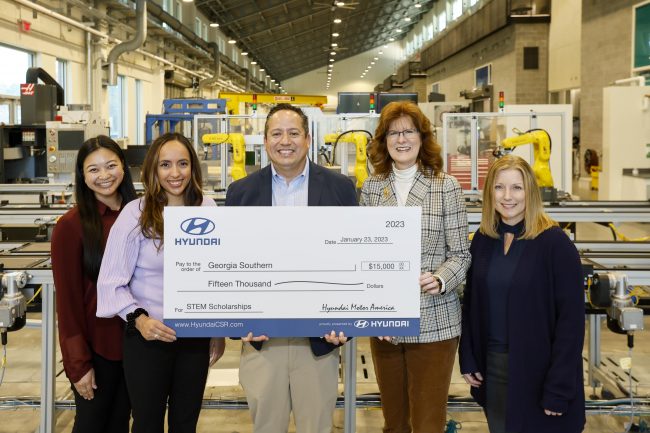 Hyundai Motor America announced its partnership with Georgia Southern University and the Ronald McDonald House Charities of the Coastal Empire, donating $15,000 to each organization. The support highlights Hyundai's strong commitment to the state of Georgia, where the new Hyundai Motor Group Metaplant America is currently being built in Bryan County. Ceremonial checks were presented to the two organizations in Georgia.

"With our global vision of progress for humanity, Hyundai is proud to support organizations that are doing good for their community," said Brandon Ramirez, director, corporate social responsibility and external relations, Hyundai Motor America. "Innovation opens the door to the future, and access to quality education is a key component to building the leaders of tomorrow. Additionally, community health programs are critical in filling unmet needs of families going through distressful times, such as during illness and disease."
The donation to Georgia Southern University will help provide scholarships to undergraduate students in the science, technology, engineering, and math (STEM) fields, as these areas of study are particularly important to innovation.
"Community partnerships play an important role in helping our students reach their full potential in the STEM fields," said Julie Gerbsch, executive director of development, Georgia Southern University. "We are proud to be community partners with Hyundai Motor America."
The donation to the Ronald McDonald House Charities of the Coastal Empire is part of Hyundai's corporate social responsibility initiative, Hyundai Hope, which seeks to uplift children and families by means of supporting various health programs. This donation will help provide housing to young hospital patients and their families.
"When a child becomes seriously ill, the entire family suffers, particularly when the child is hospitalized or receives outpatient treatment far from home over an extended period of time," said Billy Sorochak, chief executive officer of the Ronald McDonald House Charities of the Coastal Empire. "For the family of a hospitalized child, the Ronald McDonald House will be the most important House they will ever visit. Thanks to the generous support of Hyundai Motor America, through the Hyundai Hope initiative, so many children and families will receive both the care and comfort needed during these difficult times."
---
Georgia Southern University
Georgia Southern University, a public Carnegie Doctoral/R2 institution founded in 1906, offers approximately 140 different degree programs serving more than 25,500 students through 10 colleges on three campuses in Statesboro, Savannah, Hinesville and online instruction. A leader in higher education in southeast Georgia with expert faculty, the University is focused on public impact research and engaging learning opportunities through knowledge and know-how that prepare our students to take ownership of their lives, careers and communities. Visit GeorgiaSouthern.edu.
Ronald McDonald House Charities of the Coastal Empire
Ronald McDonald House Charities (RMHC) of the Coastal Empire, is a non-profit, 501 (c) (3) corporation that creates, finds, and supports programs that directly improve the health and well-being of children and their families. The cornerstone program is the Ronald McDonald House that serves as a "Home away from home" for families with critically ill or injured children receiving treatment at area hospitals. Other core programs include the Ronald McDonald Family Room®, a "Haven in the hospital" for families with children receiving treatment at St. Joseph's/Candler Hospital and the Memorial Health Dwaine & Cynthia Willett Children's Hospital of Savannah, the Ronald McDonald Care Mobile® that provides underserved children with free dental examinations and preventive treatment and the RMH Hospitality Cart which cares for all the patients at Dwaine & Cynthia Willett Children's Hospital of Savannah. For more information visit www.rmhccoastalempire.org. Follow RMHCCE on Twitter, Facebook and Instagram. #KeepingFamiliesClose
Hyundai Hope
Hyundai Hope is a corporate social responsibility initiative from Hyundai Motor North America, committed to the principal of Progress for Humanity and the goal of improving the wellbeing of society. Hyundai Hope dedicates time and supplies resources to nonprofit organizations that support the health and safety of individuals and foster positive growth in communities. For more information, visit www.HyundaiHope.com.
Hyundai Motor America
Hyundai Motor America focuses on 'Progress for Humanity' and smart mobility solutions. Hyundai offers U.S. consumers a technology-rich lineup of cars, SUVs, and electrified vehicles. Our 830 dealers sold more than 724,000 vehicles in the U.S. in 2022, and nearly half were built at Hyundai Motor Manufacturing Alabama. For more information, visit www.HyundaiNews.com.
---
SOURCE Hyundai Motor America