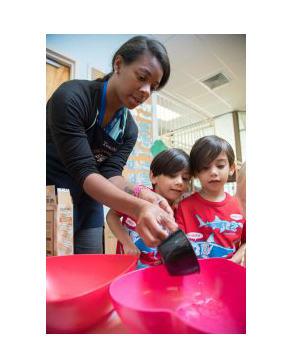 Georgia Southern University students majoring in human development and family science with a concentration in family services have the opportunity to earn their master's degree in public administration at an advanced pace through a new accelerated program.

The accelerated bachelor's to master's program provides students with the opportunity to apply up to 12 credit hours of Master of Public Administration (MPA) coursework toward both their undergraduate and graduate degree requirements. The accelerated program allows a student to complete the bachelors and masters degrees in a total of five years. The family services concentration in HDFS is now available as an online program while the MPA degree is hybrid (half online, half in person on the Statesboro Campus).
"The family service concentration in human development and family sciences introduces students to the fundamentals of child development and in-depth knowledge of family service organizations," said Ryan Schroeder, Ph.D., dean of the College of Behavioral and Social Sciences. "The MPA program develops the skills and knowledge necessary to manage public and nonprofit organizations. With this accelerated bachelors to masters program, students are prepared to take on leading roles in family service organizations."
The MPA is a professional graduate degree designed for management and administration within the public sector and nonprofit organizations. The MPA degree provides students with focused training to work in a leadership role, and the opportunity to master a broad set of skills including budgeting and finance, economic analysis, human resource management, policy analysis, information technology, resource development and grant writing, program evaluation, and board governance.
"As a professional graduate degree designed for management and leadership roles within the public and nonprofit sectors, the MPA is a perfect fit for human development and family sciences students seeking to graduate with career-ready skills," said Trent Davis, Ph.D., professor and chair of the Department of Public and Nonprofit Studies. "The nationally accredited and respected Georgia Southern MPA program has a 50-year history of public service excellence. Our innovative hybrid-based curriculum combines the best of in-person and online instruction with opportunities for high-impact, real world learning."
For more information about the accelerated program, visit GeorgiaSouthern.edu/cbss/human-development-family-science/accelerated-bachelors-to-masters-abm-program/.
---
GSU