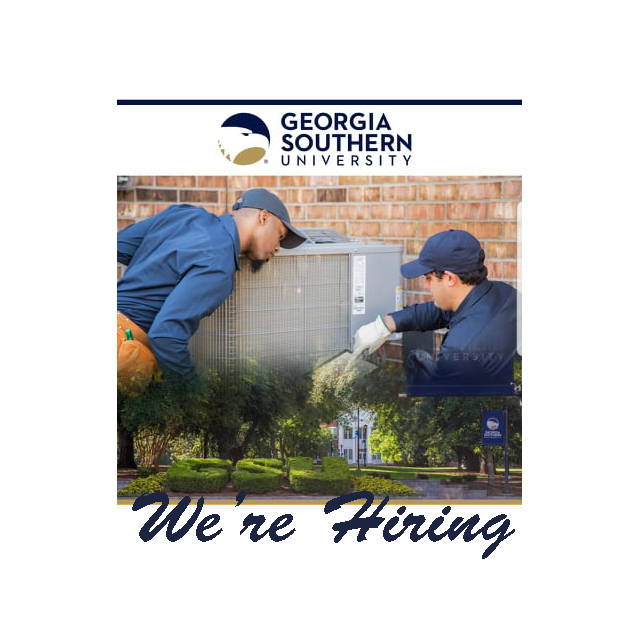 Georgia Southern University currently has a full-time position open for an HVAC Mechanic in the Mechanical Maintenance Department. Two years experience is required. Applications need to be completed before July 30, 2021.


Job Summary
Install, maintain, and repair campus heating and air conditioning systems, units, and related equipment. Perform skilled work in installation, alteration, maintenance and repair of food production equipment in compliance with all state, federal regulations and trade codes.
Responsibilities
Perform related duties as assigned to support the mission of the University
Repair pneumatic controls and calibrate thermostats
Comply with State and Federal requirements for use, handling, and transport of all refrigerants
Maintain inventory as to eliminate down time in production
Select materials and equipment at a competitive price
Keep daily log of time spent on each job and materials used
Follow all safety and other risk management policies in performance of work
Attend safety meetings
Maintain, repair and clean tools, equipment, assigned service vehicle, boiler rooms, and work areas
Install, maintain, repair, and overhaul commercial and residential heating and air conditioning equipment
Replace compressors, fan motors, bearings, and shafts
Perform preventive maintenance and make daily routine visual inspections of boiler rooms, heating and cooling systems, and equipment in assigned buildings and areas; check fluid levels and belt tightness
Respond to emergency calls and/or work orders related to air conditioning, heating, hot water equipment, and ventilation systems
Maintain chillers, cooling towers, boilers, air handlers and other commercial and residential heating and cooling equipment for campus
Take water samples, and maintain proper chemical levels in boilers and cooling towers
Maintain medium pressure steam boilers used for heating domestic water and preparation of food
Required Qualifications
Educational Requirements
High school diploma or equivalent
Other Required Qualifications
Refrigerant Transition and Recovery Certification or ability to obtain and maintain certification within timeline specified by department
See more information on GSU's job listing HERE.