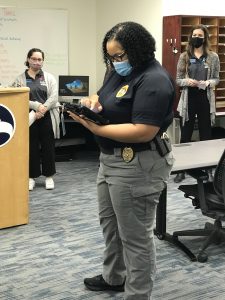 Several GSU graduate students and Georgia Southern UPD officers worked together to learn more about communication disorders and interaction. 

Officers in the Georgia Southern University Police Department (UPD) now have more options for improving police interactions with individuals impacted by communication disorders thanks to graduate students in the Communication Sciences and Disorders (CSDS) program in the Waters College of Health Professions.
Nine students led 12 officers and one UPD support staff through training at the RiteCare Center for Communication Disorders on the Armstrong Campus in Savannah.
"In addition to working with law enforcement, students gained valuable insight on how to prepare their future clients to interact successfully with law enforcement," said Tory Candea, SLPD, clinic coordinator at the RiteCare Center.
During the training, officers and students engaged in different scenarios focused on improving police interactions with individuals impacted by communication disorders. Officers also had an opportunity to interact with an electronic message board used by people who cannot verbally communicate.
"The training was very useful in increasing my confidence when interacting with a person who may have an unseen disability," said Lieutenant Tiffany Land. "Personally, I feel I can always benefit from this type of training to help me improve my skills as an officer."
First-year CSDS graduate student Arianna Krakovsky recalled the benefits the disability training provided.
"The disability training was beneficial to both me and the campus police officers as we were able to learn from one another how to best serve our community, especially when it comes to keeping individuals with disabilities safe and practicing inclusion for all," Krakovsky said. "We were able to gain one another's perspectives regarding various scenarios and decide what might be best to do."
This was the first year UPD has worked with students in the RiteCare Center for this type of training.
"The students from the RiteCare clinic are our in-house resource for information," Land said. "We are always willing to help with the growth of our student body and look forward to participating in more student presentations in the future."