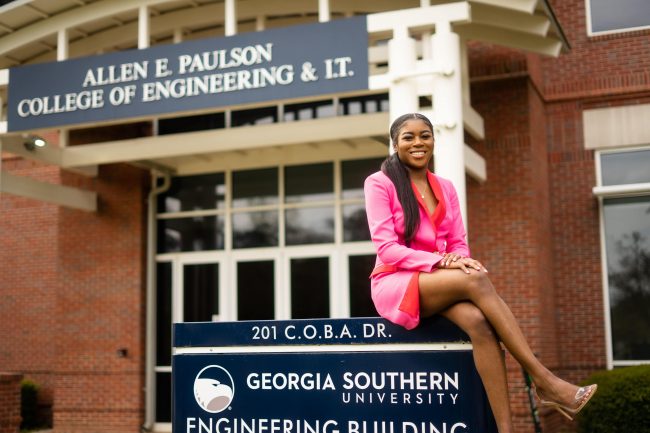 Georgia Southern University highlights graduate Myla Kelly and her achievements.


For as long as she can remember, Myla Kelly has been enthralled by architecture. It was this fascination which led her to pursue a degree in civil engineering.
With support from her instructors in the Allen E. Paulson College of Engineering and Computing, who helped to embolden her through the challenges, Kelly realized her dream as she crossed the commencement stage with a degree in civil engineering and a minor in finance from Georgia Southern University.
"They were definitely there to help and to give me the hands-on learning experience that I needed to go into the real world and into engineering. I owe a great deal to them," she said.
Finding her voice helped her to overcome the initial challenge of joining a traditionally male-dominated field.
"You have to create your own seat at the table," Kelly said. "Especially because there were some classes where I would be the only girl in the class, you have to have a voice in the room and show why you deserve to be there. It's challenging at times, but it's definitely doable for any woman who's interested in being in the engineering industry or any male-dominated field. You just have to be ready to go through the obstacles."
Kelly was able to overcome those obstacles not only with academic support, but also with the encouragement of her family support network. She hoped to honor the memory of her late father through her success.
"My dad passed away in 2013," Kelly said. "That was a major motivating factor for me going through college. My mom has also been a huge support system for me. She really is like my therapist and best friend all wrapped up in one. She helped to push me through college, especially with being so busy and having to make big decisions."
Outside of the classroom, Kelly dove into all aspects of life at Georgia Southern by becoming a SOAR leader for the Office of Admissions, a weekly trip leader for the Office of Leadership and Community Engagement, and a residential advisor at Centennial Place residence hall on the Statesboro Campus.
"I used to be super shy," she said. "It was a leap of faith for me to apply to be a SOAR leader, but it was something that I always wanted to do. I used it as a way to get out of my shell. We were constantly talking to people, so it really helped. It gave me the opportunity to build connections."
In addition, Kelly worked with the University Programming Board on numerous campus events, became the treasurer of the Minority Advisement Program, the vice president of Georgia Southern's chapter of the National Society of Black Engineers, and president of the Lambda Kappa Chapter of Alpha Kappa Alpha (AKA) Sorority, Inc., after previously serving as vice president.
"Being the president of AKA was a challenge, but it helped me develop my leadership skills and define my leadership style because I had to quickly identify the way that I wanted to lead this group of girls with different personalities." Kelly said. "I had to learn how to keep the sorority's best interest in mind and that you can't always be a people pleaser because, at the end of the day, responsibilities are on you."
While Kelly felt that her involvement with so many organizations was the key to her success at Georgia Southern, she acknowledged that it came at a cost.
"What a lot of people don't know is that being in these organizations looks good and easy from the outside, but it was a lot of sleepless nights and sacrifice, choosing to do something for the organization and then choosing to stay up even later to do your homework," Kelly said. "You definitely have to prioritize so that you are able to put your best effort into everything."
Because of her engagement in numerous extracurricular activities and organizations, Kelly learned many life lessons that helped prepare her for the future.
"As I got older and had to focus more on my classes, I had to learn to say no," Kelly said. "I had to say no to joining some organizations that people really wanted me to be in and to say no to participating in different activities on campus. I had to learn to choose things that were going to be beneficial to me and my career."
Kelly joined a co-op through Southern Company while at Georgia Southern that provided her with the opportunity to work in her field of study while she was still taking classes. It also opened the door for her to act as a mentor for middle and elementary school students in STEM. Thanks to her four co-op rotations, Kelly secured a job with Georgia Power prior to graduation. She also earned a spot in a graduate program with Duke University.
"Having a job secured already is definitely a weight off of my shoulders," Kelly said. "Even though I pushed my graduation date back by a year, joining the co-op that led me to this job was definitely the best decision I ever made. It helped me to enjoy my senior year that much more."
With all of the mentorship that Kelly received and provided during her time at Georgia Southern, she shared her own advice for students following in her footsteps.
"Create a pathway for someone else," Kelly said. "Set that example for the student that's coming up behind you. My big thing now and all throughout Georgia Southern was mentorship, sharing my experiences in college with somebody else so that it could be easier on them. Be a role model and set an example for the next group of people coming into Georgia Southern."
---
Source: GSU