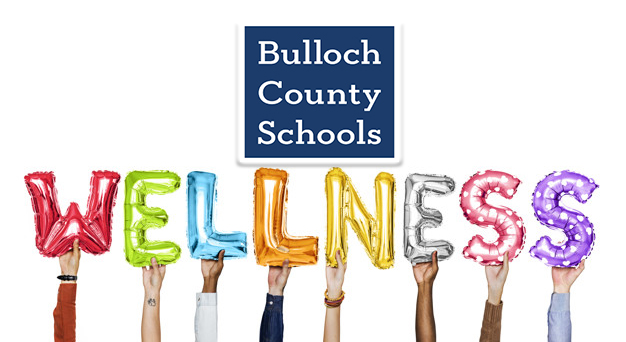 Bulloch County Schools is providing additional support for employee wellness by hosting a special wellness initiative May 3-21.

A $500 grant from the Professional Association of Georgia Educators will help fund the initiative. Employee support activities for wellness include: employees snap and submit photos of themselves taking part in their favorite health and wellness activities, get moving by counting steps with free pedometers, and take part in virtual resilience circles to learn knew aspects of self-care.
---
Photo Contest
Now through May 21 employees may submit digital photos of how how they support their health and wellness to webster@bullochschools.org. Examples include photos of them exercising, bonding with family and friends, enjoying hobbies or even simply drinking water. Employees who submit photos will be entered into weekly drawings on May 7, 14, and 21, for gift cards and prizes. Photos will be selected to feature on the district's website and social media to further help promote health and wellness. Employees may also post the photos on your personal social media accounts and consider using the hashtag #BullochBeWell.
Free pedometers – Step to better health
In partnership with our State Health Benefit Plan (SHBP), Sharecare, and BeWell, Bulloch County Schools is providing free pedometers for employees to encourage being physically active for wellness. If interested, employees can pick up a free pedometer from  their school's or building's main office or use their own selected digital device to track their progress.
For the district's full-time benefits-eligible employees who have insurance through the SHBP, wellness habits earn rewards through the Sharecare Well-Being Program. Employees ca complete activities like step challenges and earn a $150 Visa Reward Card or 480 well-being incentive credits towards eligible medical and pharmacy expenses. Sharecare has step challenges in January, April, July, and October of each year. Employees can also download the Sharecare app to their personal digital device to track health progress. Employees may register or login to BeWELLSHBP.com/story
Virtual Reliance Circles on May 6 & 20
Employees may participate in online Resilience Circles via Google Meet on May 6 and 20 at 6:30 p.m. to discover ways to prevent burnout and compassion fatigue with proper meditation and mindfulness techniques. While the sessions will most benefit  classroom teachers, they are open to all employees. Look for emails with the Google Meet links prior to each event.
"When we think of the qualities of a successful teacher or employee, we often think about their classroom or work skills and their ability to build relationships with students and coworkers," said Alissa Sasser, Ph.D., a school improvement director for the district.  "However, due to COVID-19, it has become more important than ever to also focus on our well being."
To support the school district's strategic goal of attracting, retaining, and promoting effective employees, it is important not to overlook the impact that wellness and self-care have on the health of those who serve our school district.
During COVID-19, Bulloch County Schools has provided multiple support initiatives including a Social and Emotional Learning area on its website with resources to benefit students, parents and employees. For this initiative, the school district is supporting its teachers and all employees due to how much they have had to adapt and transition with COVID-19 protocols, distanced and virtual learning and changes in work.
The School Improvement and Human Resources departments collaborated on this initiative to help ensure employees feel appreciated and to encourage all to take the time to care for our mental, emotional and physical wellness. The committee behind the initiative has included Sasser, Keith Wilkey, Debbie Sarrat and Alli Baxter. For more information about this health and wellness initiative, contact Alissa Sasser, Ed.D by email.