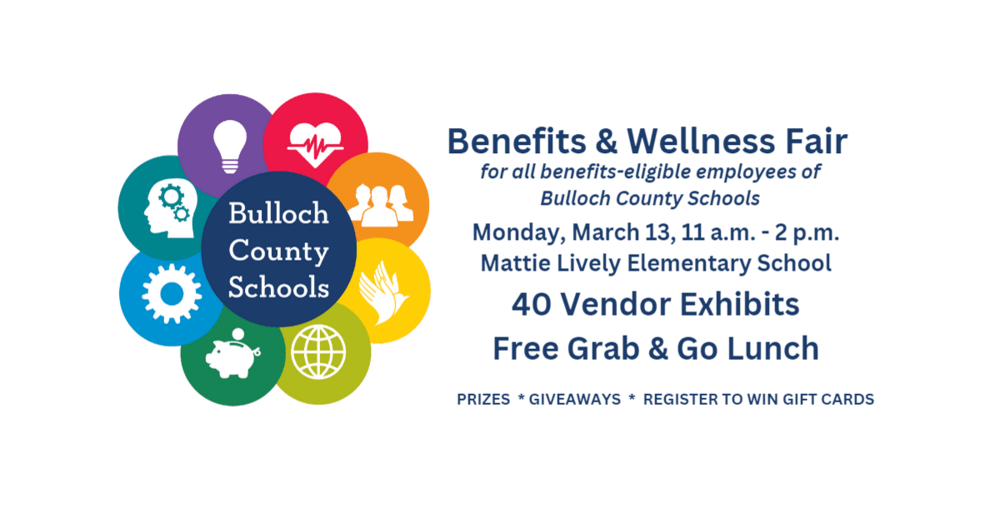 Bulloch County Schools will host its inaugural Benefits & Wellness Fair on Monday, March 13, at Mattie Lively Elementary School for the district's more than 2,100 employees.


The day is a holiday for students, so the event will highlight the district's spring in-service day. Employees will visit the fair during assigned one-hour time slots between 11 a.m. and 2 p.m. More than 40 local and area vendors have committed to be part of the fair. Each will be set up to help employees on their individual journeys to better overall health and wellness in the many aspects of their lives – financial, psychological, social, spiritual, physical, occupational, environmental, and intellectual. Other interested vendors for this fair or the district's other human resources events may contact Ty Winters by email or by telephone at 912.212.8504
"Our employees are public servants who have dedicated their careers to teaching and supporting our community's children," said Alli Baxter, chief human resources officer for the district. "This is a way that we can give back to them to help them be the best versions of themselves, which in turn helps them be the best for students" It's also a strategic goal of our school district to be a workplace that helps retain its employees by empowering them and providing opportunities for them to grow, both individually and collectively."
In addition to the wealth of information and giveaways from vendors, there will also be a free grab-and-go lunch catered by Moe's, prizes, and chances to win gift cards. Attendees are also encouraged to share their experiences from the event on social media with the hashtag #BullochBeWell.
The day is divided into three time sessions for the district's 15 schools, learning programs, and offices.  These are the assigned times. Employees from the district's Central Office and four transportation, maintenance, food services, and special education annexes may attend at any time during the fair. Parking space is limited, so carpooling is encouraged.
Session 1, 11 a.m. – 12 p.m.:  Brooklet, Julia P. Bryant, Sallie Zetterower, Mattie Lively, and Nevils elementary schools
Session 2, 12 p.m. – 1 p.m.:  Langston Chapel Middle School, Portal Middle High School, Southeast Bulloch High School, Statesboro High School, Transitions Learning Center, LEAP, and Virtual Learning Program
Session 3, 1 p.m. – 2 p.m.:  Stilson Elementary, Langston Chapel Elementary, Mill Creek Elementary, Portal Elementary, Southeast Bulloch Middle, and William James Middle.
---
About Bulloch County Schools & Its Benefits
Bulloch County Schools is the county's second-largest employer with more than 2,100 full-time, part-time, temporary, and contracted services employees. The district is an equal opportunity employer that provides a very competitive benefits package for employees and their dependents. Interested applicants may apply online for available jobs.
For benefits-eligible employees it offers medical, dental, and vision insurance with available flexible spending and health reimbursement accounts for expenses. Employees have access to additional cancer, life, short and long-term disability, and supplemental insurance options as well. Employees can also earn wellness incentives and rewards through the State Health Benefit Plan which can place additional funds into a health reimbursement account to cover any out-of-pocket medical expenses. The district provides times during the year for free one-on-one insurance consultations with experienced professionals to help determine individual insurance needs, and free annual health screenings and flu vaccinations for employees and their dependents.
Bulloch County Schools also provides a free Employee Assistance Program that helps employees balance the challenges of a job and the demands of an active personal lifestyle. The Employee Assistance Program helps them and their dependents (up to age 26) when they face issues that may interfere with their health, well-being and productivity at home or at work with up to three free consultations with a degreed professional in the areas of mental health, legal, financial, and work/life counseling.
---
Bulloch Co Schools