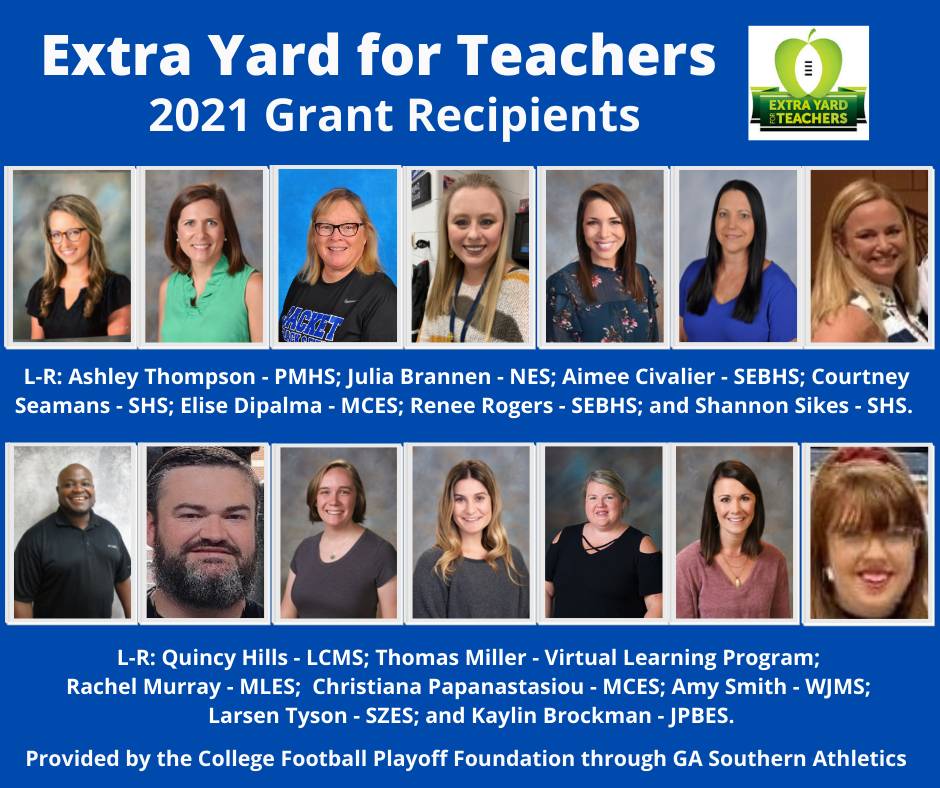 Fourteen teachers in Bulloch County will be recognized this Saturday for being chosen as Extra Yard for Teachers grant recipients. 


This football season more than 7,000 teachers nationwide are receiving Extra Yard for Teachers grants for innovative classroom projects, including 14 from Bulloch County Schools.
Georgia Southern Athletics is one of 500 organizations which partners with the College Football Playoff Foundation (Foundation) to elevate the teaching profession and inspire and empower teachers through resources, recognition, recruitment and professional development. GA Southern Athletics sought grant applicants from educators in the three counties where the university has campuses:  Bulloch, Chatham and Liberty counties.
"We look forward to seeing the initiatives and projects that teachers in Bulloch, Chatham, and Liberty Counties put forth as part of the Extra Yards for Teachers initiative", said Reggie Simpkins, Director of Student-Athlete Services, in a statement released by the university. "This partnership is exciting as we get to recognize teachers who are a vital part of our campus communities."
Twenty teachers from the three counties were selected to each receive $250 grants to implement their submitted classroom projects. Their grant applications and itemized project budgets were chosen by a review committee for funding. The educators, including the 14 from Bulloch County Schools, will be recognized as Extra Yard for Teachers grant recipients during the GA Southern Eagles' football game against the Louisiana Ragin' Cajuns on Saturday, Sept. 25, at Allen E. Paulson Stadium, in Statesboro. The game is also being dubbed as Educators Day. The university offered special discounted tickets to area educators and special announcements will be made during the game to recognize and honor all teachers in attendance.
Congratulations to these Extra Yard for Teachers grant recipients from Bulloch County Schools:
Thomas Miller, Virtual Learning Program – Virtual Field Trip Project – $250
Ashley Thompson, Portal Middle High – Discovering Density Project – $250
Quincy Hills, Langston Chapel Middle – Diverse Text Project – $250
Larsen Tyson, Sallie Zetterower Elementary – Classroom Project – $250
Shannon Sikes, Statesboro High – SPED Virtual Resources Project – $250
Renee Rogers, Southeast Bulloch High – Sound Booth Project – $250
Rachel Murray, Mattie Lively Elementary – Everyone's A Reader Project – $250
Aimee Civalier, Southeast Bulloch High – Kickball Club Project – $250
Elise Dipalma, Mill Creek Elementary – Little Green Thumbs Project – $250
Kaylin Brockman, Julia P. Bryant Elementary – In the Classroom Project – $250
Amy Smith, William James Middle – Gardening Robots Project – $250
Julia Brannen, Nevils Elementary – Read to Succeed Project – $250
Courtney Seamans, Statesboro High – Flexible Seating Project – $250
Christiana Papanastasiou, Mill Creek Elementary – Recess Equipment Project – $250
---
Bulloch Co Schools