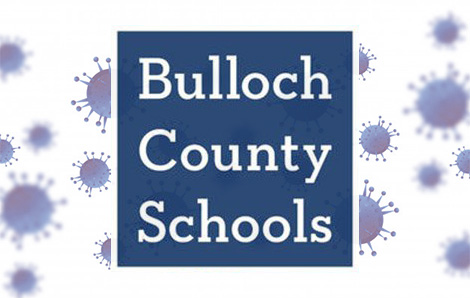 This is Bulloch County Schools' latest report as released by the school system. The report is updated weekly.

Note: There was no report for Week 12, October 17 – 23, 2021 due to Fall Break.
---
Last Update: 8:30 a.m., November 1, 2021
Totals for Week 13: October 24-30, 2021
Total Cases for Week 13: 5
Total Close Contacts due to Week 13 Cases: 1
Total Clusters for Week 13: 0
Total Student Enrollment: 10,999
Number of Students on Campus: 10,598
Number of Virtual Students: 401
Total Employees On-Campus:  2,045
Total Employees Working Virtually: 45
Note: These are cases and close contacts that occured amongst students and employees. The data include those that happen both at school and in community. Not all cases or close contacts have been at school. A person may be identified as a close contact more than once.  No COVID-19 testing is done in the school district and no medical entities report positive cases to the district.  All cases are self reported by parents and employees. All close contacts and clusters that occur at school are traced by school district medical and administrative personnel.
---
SCHOOL WEEK 13
| Location | # Employees | Student Enrollment | Cases | Close Contacts | Clusters |
| --- | --- | --- | --- | --- | --- |
| Brooklet Elementary School | 88 | 781 | 1 | 1 | 0 |
| Julia P. Bryant Elementary School | 92 | 694 | 0 | 0 | 0 |
| Langston Chapel Elementary School | 82 | 636 | 0 | 0 | 0 |
| Langston Chapel Middle School | 91 | 742 | 0 | 0 | 0 |
| Mattie Lively Elementary School | 100 | 619 | 1 | 0 | 0 |
| Mill Creek Elementary School | 86 | 572 | 0 | 0 | 0 |
| Nevils Elementary School | 68 | 458 | 1 | 0 | 0 |
| Portal Elementary School | 59 | 381 | 0 | 0 | 0 |
| Portal Middle High School | 73 | 446 | 0 | 0 | 0 |
| Sallie Zetterower Elementary School | 105 | 718 | 0 | 0 | 0 |
| Southeast Bulloch High School | 107 | 1,095 | 0 | 0 | 0 |
| Southeast Bulloch Middle School | 87 | 786 | 0 | 0 | |
| Statesboro High School | 158 | 1,607 | 0 | 0 | 0 |
| Stilson Elementary School | 61 | 432 | Report Pending | | |
| Transitions Learning Center / Cedarwood | 14 | 90 | 0 | 0 | 0 |
| Virtual Learning Program | 45 | 401 | 0 | 0 | 0 |
| William James Middle School | 81 | 541 | 2 | 0 | 0 |
| Central Office, 3 Annexes, & Substitutes | 693 | Not Applicable | 0 | 0 | 0 |
| Total | 2,090 | 10,999 | 5 | 1 | 0 |
---
Source Bulloch County Schools