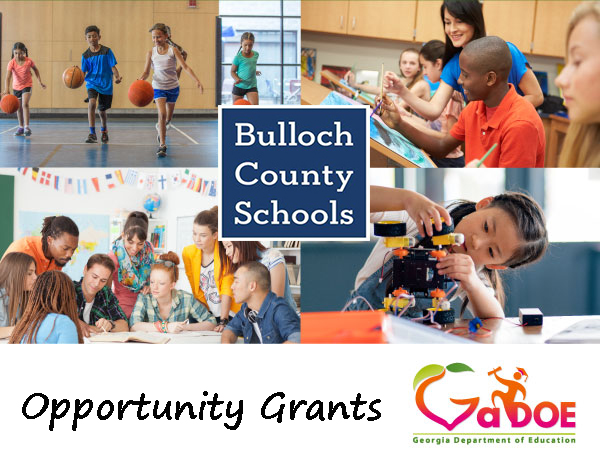 The Georgia Department of Education is awarding a second series of Opportunity Grants to help districts expand options and opportunities for their students. The grants total $1,820,804 to support fine arts, health and physical education, and world language along with summer bridge programs for rural school districts. The total number of schools in the state receiving the grants is 498. Several schools in the Bulloch County School District will receive Health and Physical Education Equipment Grants and Fine Arts Consumables and Equipment Grants, for a total of $40,545 in grants.


"Georgia is committed to expanding opportunities for students and providing an enriching educational experience in the core content areas and beyond," State School Superintendent Woods said. "These grants ensure that students across the state have access to educational opportunities that prepare them for life and keep them engaged in school."
Below are the types of Opportunity Grants being awarded throughout the state:
Fine Arts: Awarded to 243 schools, the Fine Arts Consumables and Equipment (FACE) grant provides up to $3,000 per teacher for the acquisition of supplies and equipment needed to teach the required Georgia Standards of Excellence for Fine Arts.
Health and Physical Education: Awarded to 201 schools, the Health and Physical Education Equipment (HPE) grant provides up to $3,000 per school for the acquisition of equipment needed to support health and physical education instruction.
World Languages – PARTNER: Awarded to 10 schools, the Providing Access for Rural Teachers for New Equipment and Resources (PARTNER) grant allows world language teachers to implement sustainable world language instructional initiatives and increase access to quality world language education.
World Languages – Cross-Curriculum Innovation: Awarded to 12 schools, the Cross-Curriculum Innovation (CCI) grant supports innovative connections between world language and other areas of the curriculum.
Summer Bridge Program: Awarded to 32 schools, this grant provides up to $15,000 per school to implement summer programs with the purpose of accelerating student learning. These grants are targeted to programs serving K-8 students in rural districts.
The Opportunity Grants are made possible through federal stimulus funds under the American Rescue Plan (ARP – ESSER).