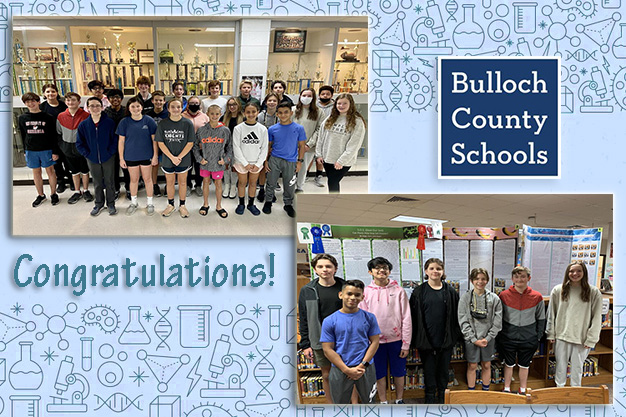 Middle School students in Bulloch County recently competed in a local Science & Engineering Fair. Winners will go on to compete at the regional level in Savannah this coming February.


Bulloch County Schools' 2021 Science & Engineering Fair was held on December 9, at William James Middle School. The annual event drew 24 middle school students who showcased displays of their long-range research projects to peers and faculty and presented their findings to judges.
Students competed individually or as two- and three-person teams. Winners will advance to the Savannah Regional Science & Engineering Fair in February.
These are the projects that placed or received special recognition in the 2021 Bulloch County Schools Science & Engineering Fair:
Overall Project Winners
First-Place Overall Project
"S.O.S. (Save Our Soil) Can Plants Help Stop Soil Erosion?"
Jorge Araque Belandria, Garv Patel and Jasper Bryant (Eighth-Grade, William James Middle School)
Second-Place Overall Project
"From Peel to the Wheel-Which Organic Material Produces the Most Biogas?"
Blaise Jackson, Tyler Blythe, and Johnny Kafader (Eighth-Grade, William James Middle School)
Third-Place Overall Project
"Swimming in Acid: What effect does ocean acidification have on mussels and other carbonate-based marine life?"
Maggie O'Neill (Eighth-Grade, William James Middle School)
Special Recognition Awards
Best Engineering Project
"Hot, Hot, Hot-Saving Lives with a Firebot"
Luke Aldred and Rishi Shah (Seventh-Grade, William James Middle School)
Best Chemistry Project
"Which type of food will have the most calories?"
Brady Basquin, Aryan Patel and Parker Richardson (Eighth-Grade,
William James Middle School)
Best Environmental Project
"S.O.S. (Save Our Soil) Can Plants Help Stop Soil Erosion?"
Jorge Araque Belandria, Garv Patel and Jasper Bryant (Eighth-Grade, William James Middle School)
Best Energy Project
"From Peel to the Wheel-Which Organic Material Produces the Most Biogas?"
Blaise Jackson, Tyler Blythe, and Johnny Kafader (Eighth-Grade, William James Middle School)
---
Bulloch Co Schools