The Bulloch County Health Department will be hosting screenings and immunization clinics for K through 12 students for the new school year.


The clinics are for hearing/vision/dental/nutrition screenings and school immunizations. All are available as walk-in services from 1:00 pm – 5:00 pm on each of the days listed below.
Monday, July 24
Tuesday, July 25
Wednesday, July 26
Thursday, July 27
Monday, July 31
Tuesday, August 1
Wednesday, August 2
Thursday, August 3
Information about immunization requirements for Georgia child care and school attendance can be found at dph.ga.gov/schoolvaccines.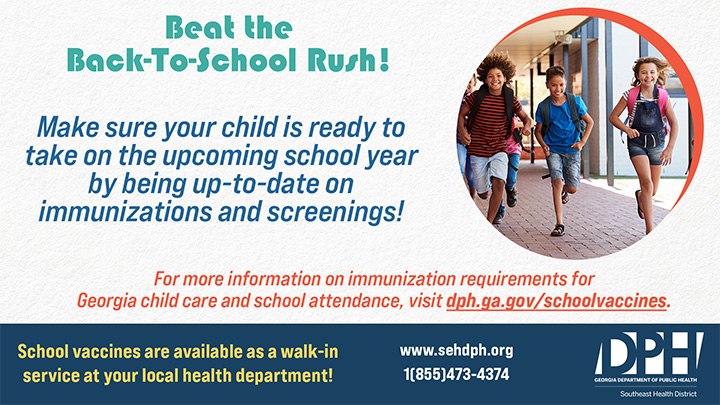 In Georgia, children who are entering 7th grade and children who are new entrants into a Georgia school in grades 8-12 must have received one dose of Tdap vaccine and one dose of meningitis vaccine (MCV4) to meet immunization requirements.
All Georgia students 16 years of age and older, who are entering or transferring into 11th grade, will need proof of a meningitis booster (MCV4).