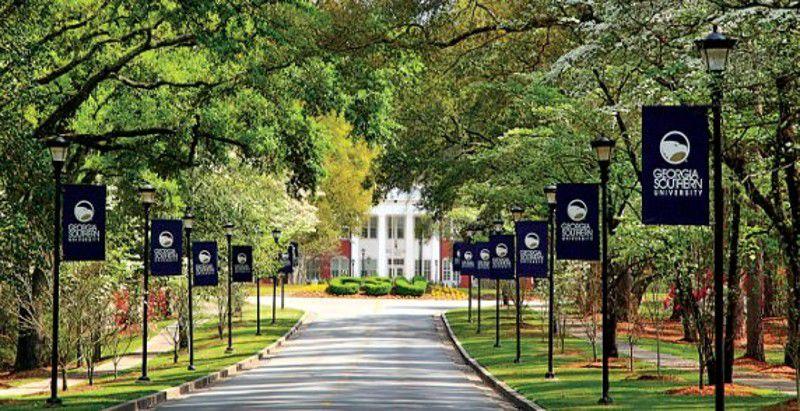 Official fall enrollment at Georgia Southern University rose by approximately 3.45% over 2019, thanks to a record-breaking class of first-year students. Also contributing is a post-consolidation record-high 79% retention rate from freshman to sophomore year.
Newly released figures from the University System of Georgia show Georgia Southern's official fall enrollment for 2020 was 26,949, an increase from the previous year's official total of 26,054. The data show the increase is attributable to a freshman class of 5,247 students, which is a 42% increase over the 2019 freshman class of 3,675 and the largest freshman class ever recorded at Georgia Southern, buoyed by the largest freshman class recorded at the Armstrong campus in Savannah since at least 2012.
Other record highs were recorded when evaluating how many students returned for their sophomore year after their freshman year. That rate of 79% last year was up from 78% the year before. Additionally, the university's six-year graduation rate rose to 53.6%, a record high rate going as far back as 2010.
"These important measurements, and the growth in our freshman class is nothing short of remarkable," said Georgia Southern President Kyle Marrero. "We are very pleased with the final figures for fall 2020. This not only shows the result of the work we are doing to attract new students, but it also affirms the expanding reputation of the university, and the ability of our faculty and staff to prepare students for the next chapter in their lives."

Georgia Southern's next highest record freshman class enrollment was 3,900 in fall of 2018.
A deeper dive into the numbers reveals encouraging growth trends across various measures. Online enrollment continues to climb while enrollment at the Statesboro and Armstrong campuses showed tremendous improvement after declines last year.
First-year student enrollment on the Armstrong campus in Savannah this year was 895, the largest freshman class on that campus in at least six years. Previous freshmen class sizes at the Armstrong campus were: 2015: 846, 2016: 829, 2017: 778, 2018: 476, 2019: 538, 2020: 895.
Enrollment for the Statesboro campus increased by approximately 3% in fall 2020 after a 1.3% decrease last year from 2018. Enrollment at the Armstrong campus in Savannah decreased by less than 1% in fall 2020 after a 6% decline last year from 2018.
Fall 2020 enrollment at the Liberty Campus in Hinesville is up approximately 3% after remaining flat last year from 2018. Also this fall, enrollment in fully online programs (not including classes that were moved to partially online to account for social distancing and public health protocols) increased by 16.8% in fall 2020 after a 12% increase last year from 2018.
"While the freshman class growth is noteworthy on its own, I am particularly pleased with how our numbers are trending across a variety of measures," said Scot Lingrell, vice president of enrollment management. "We saw increases in dual enrollment, graduate and out-of-state students. Even in the face of a pandemic, Georgia Southern has shown it's ready to serve a new generation of students."
"Our enrollment success this fall is the result of hard work and extensive collaboration amongst many teams across the institution as well as community and education partners," Marrero said. "The strength of our academic programs and regional academic plan, combined with our new strategic enrollment and marketing plans, have come together to effectively articulate the value of receiving a degree from Georgia Southern and the impact that our students can have on the communities we serve."
The full enrollment report is available here.