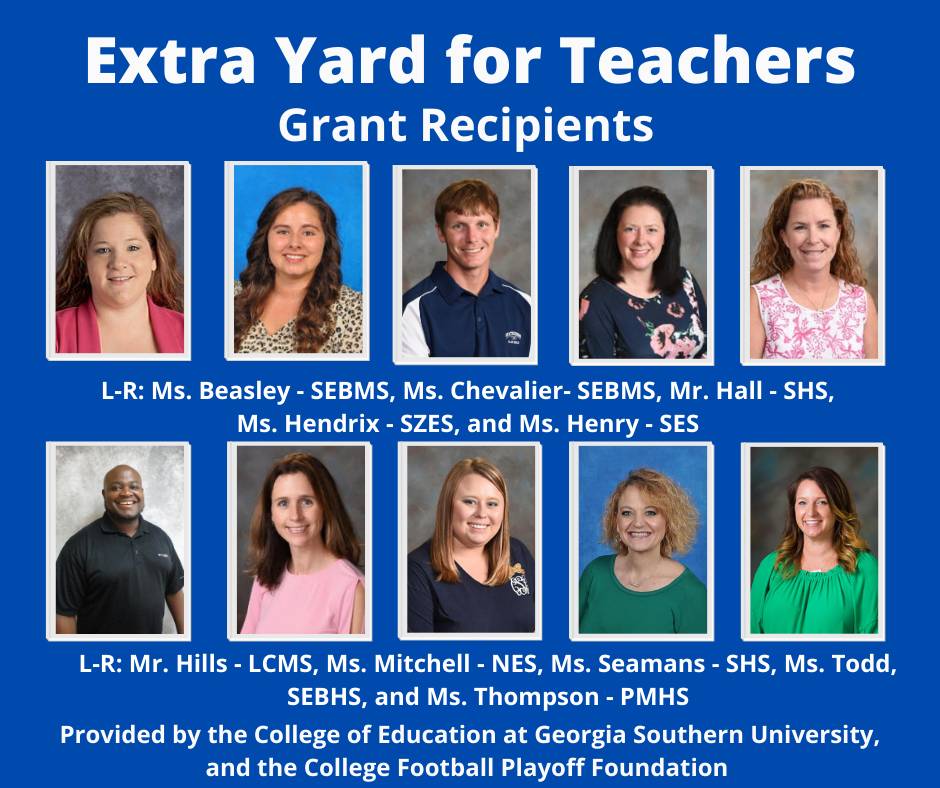 Ten Bulloch County Schools educators will receive a combined $2,900 in Extra Yard for Teachers grants provided by Georgia Southern Athletics, the College of Education at Georgia Southern University, and the College Football Playoff Foundation.


"These are a very prestigious group of applicants, and we are excited that we are able to assist them in implementing "Empathy, Equity, Empowerment" projects for their students ," said Reggie Simpkins, senior associate athletic director of Student-Athlete Services at Georgia Southern University. "Normally we recognize all recipients at a football game but due to COVID-19, we will not be able to do that this year."  The recipients will be recognized on the GA Southern Athletics website.
These grant recipients will each receive a $300 grant for their innovative projects for students:
Mandy Beasley, Southeast Bulloch Middle School – Scoping for Reading Success
Carly Chevalier, Southeast Bulloch Middle School – The Skin I'm In
Erin Henry, Stilson Elementary School – Altered Sketchbooks for Learning
Diana Hendrix, Sallie Zetterower Elementary School – Guided Reading Helps You Fall in Love with Reading
Quincy Hills, Langston Chapel Middle School – Empathy, Equity, & Empowerment
Amanda Mitchell, Nevils Elementary School – Drummin' Back to Normal
Courtney Seamans, Statesboro High School – Students with Intellectual Disabilities Learn Virtually
Ashley Thompson, Portal Middle High School – Making Connections from a Distance
These teachers will each receive a $250 grant for their projects as honorable mentions:
Josh Hall, Statesboro High School – A Little Learning on Wheels
Tiffany Todd, Southeast Bulloch High School – Virtual Living History Museum
The College Football Playoff Foundation is non-profit organization that serves as the community investment arm of the College Football Playoff and works in partnership with institutions of higher education, sports organizations, corporations and nonprofits to support educators and improve student outcomes in the United States. The purpose of the College Football Playoff Foundation lies in supporting PK-12 education across the country. It's primary platform, Extra Yard for Teachers, is dedicated to elevating the teaching profession by inspiring and empowering teachers in four core areas: resources, recognition, professional development, recruitment and retention.
Georgia Southern Athletics and the Georgia Southern University College of Education help coordinate this program annually in Bulloch County. This is the third year Bulloch County educators have joined with teachers nationwide to submit innovative grant projects to possibly be selected by a panel of judges for grant funding.