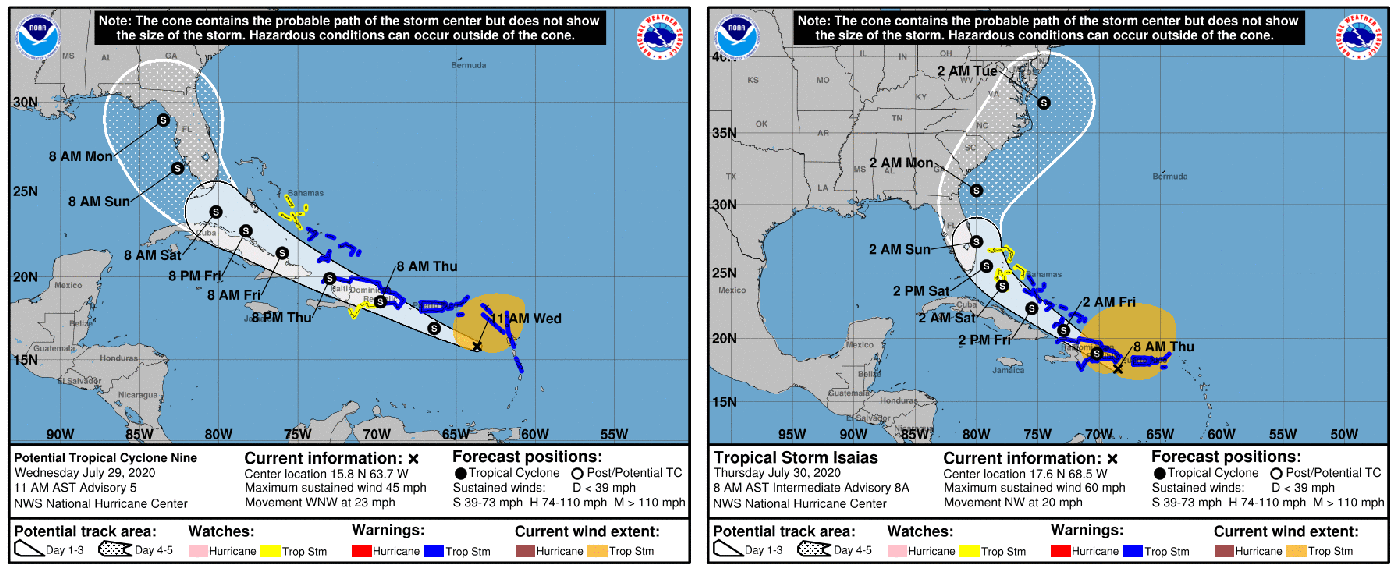 Tropical storm Isaias has formed, and the projected track has shifted back to the east as compared to yesterday. You can contrast the last 2 days projected path. The first was yesterday and the second is today. We will continue to monitor and post if there are changes.


Key Messages:
1. Isaias will produce heavy rains and potentially life-threatening flash flooding and mudslides across the Virgin Islands, Puerto Rico, the Dominican Republic, northern Haiti, and over the Bahamas.
2. Tropical storm conditions are likely across portions of the the Virgin Islands, and Puerto Rico through this morning and will spread westward to portions of the Dominican Republic, Haiti, and the Turks and Caicos and the Bahamas later today and Friday.
Tropical Storm Warnings are in effect for these areas. Do not focus on the details of the track forecast, as rainfall and wind hazards will extend far from the center of the system.
3. While this system could bring some rainfall and wind impacts to portions of Cuba and Florida later this week and this weekend, it is too soon to determine the location or magnitude of those impacts.Interests there should monitor the progress of this system and updates to the forecast over the next couple of days.
---
11:20 AM – July 29, 2020
Potential Tropical Cyclone 9 we spoke about yesterday has about a 90% probability of developing into a tropical storm with the name of "Isaias".  It is very hard to pronounce so for the time being we will refer to it if it develops as TS "I".   Currently maximum sustained winds are 45 mph and it is moving WNW at 23 mph.  As you can see from the attached image yesterday, today's forecast track has shifted more westerly.  Let us keep an eye on this storm.
This information is from Bulloch EMA.