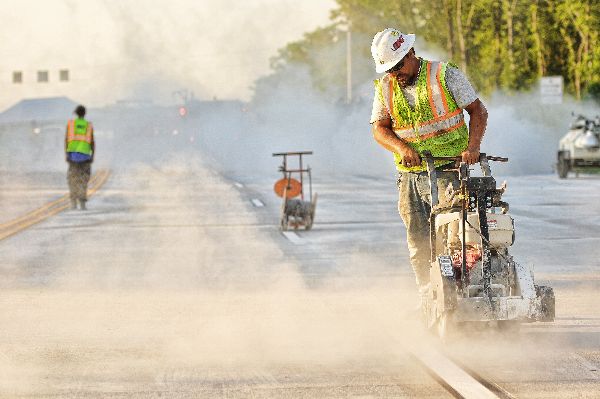 Georgia DOT continues essential road work throughout Southeast Georgia.  As a result, work on construction and maintenance projects will continue Saturday, May 22 through Friday, May 28. 
  
All work subject to change due to weather or other factors. Motorists are cautioned to reduce their speed while traveling thru work zones, pay attention and watch for workers. 
 
Traffic interruptions are listed below by interstates, categories, and counties. 


Interstate 95 Interruptions 
Bryan & Chatham Counties
I-95 Striping Operation                           
US17 to Quacco Rd. overpass bridge
Slow moving rolling lane closures with temporarily block ramps
7pm thru 6am Saturday thru Tuesday nights
Bryan County
SR 144 @ I-95 (Exit 90)                                                  
From Thunderbird Dr. to Longwood Dr. in Richmond Hill
SR 144 New traffic pattern thru interchange
traffic shifted to newly constructed southside under bridge
Interstate 16 Interruptions
Bulloch, Bryan, Effingham and Chatham Counties
SR67 to I-95        
Lane closures for slab repair & replacement/Asphalt shoulder repair
Monday thru Sunday:
From Milepost 126 to 142 East and West Bound, from 6am to 7pm
From Milepost 142 to 157 East Bound, from 8pm to 6am
Chatham County      
I –16 Exit 167 A&B         
Gwinnett St. & MLK Ramps
Lane closures for Bridge Overlay Construction
Weekday Mon.-Fri. nightly 7 pm to 5 am
Weekend continuous 7pm Friday thru 5am Monday
Bridge Closures and Road Detours
Bulloch County
Arcola Road @ Upper Black Creek Bridge                  
Near Rozier Rd
Road closure for the bridge replacement project
Expected reopening:  November 2021
Detour Route: SR 46, SR 67, Brooklet-Denmark Rd, Mud Rd
Candler County
Excelsior Church Rd @ Ten Mile Creek                      
Near Dutch Ford Road
Road Closure for the bridge replacement project
Expected reopening:  July 2021
Detour Route:  Dutch Ford Rd, Turner Rd, Jones Rd
Bridge Construction, Rehabilitation, and Maintenance
Glynn County
SR 25 Spur/FJ Torras Causeway                                 
Maintenance activity lane closures
Sunday-Thursday nights 7:30pm – 4:30am
Appling & Toombs Counties
SR4/US1 Over Altamaha River                    
West River Rd. (Appling Co.) to Bob Cato Rd. (Toombs Co.)
Daily Lane Closures for Bridge Construction Activities
Monday thru Friday, from 8am to 6pm
Chatham County
SR 17/Bloomingdale Rd over I-16 (Exit 152)                
Pine Barren Rd to John Carter Rd
Single lane closures for bridge overlay construction
Nightly 7pm to 5 am starting Monday, May 24
Chatham County
Islands Expressway                                                       
From Elba Island Rd to Oatland Island Rd
East & west single lane traffic flow on one bridge
Continuous until further notice
Glynn County
US17/SR25 on Sidney Lanier Bridge                           
Lane Closures for Bridge Rehabilitation Project
Monday thru Sunday, from 6am to 6pm
Resurfacing 
Montgomery County
US 280 SR 30                                                                
South of SR 15 (Higgston) to East of Ailey city limits
Lane Closures for asphalt resurfacing
Daily from 7am to 6pm
Bryan County  
SR 144                                                                             
Cherokee St. To Belfast River Rd
Single lane closures for asphalt resurfacing
Daily 9 am to 6pm Eastbound
Nightly 6 pm to 6am Westbound
Chatham County 
US17/SR 25                                                                     
Ogeechee River to I-516
Single Lane Closures for milling and asphalt paving
Nightly from 7pm to 6am
Glynn County
SR 25/US 17                                                                    
MP 0.05 to 2.37 Pavement Preservation
Nightly lane closures for milling and asphalt inlay
Wheeler County
SR19                                                                                
MP 18 to 27 Pavement Preservation
Daily lane closures for asphalt overlay
Oversize Load Transports
Transport from S.C. to GA Port's Ocean Terminal in Savannah
Transport expected Sunday afternoon
19'ft. 6" wide, 14' height, 75' long, 100,000 lbs. transport
Main Route: I-95 S., US 80, Lathrop Ave., W. River St., Ocean Terminal
Transport from GPA Brunswick Port to Macon                   
Nighttime move schedule: Wednesday – Brunswick port to near Hazlehurst
Thursday – Hazlehurst to Macon
18.5'ft. wide 19.8' ft. height 245' ft. long 634,000 lbs. transport
Main Route: Brunswick Port, US 341, US 41, Allen Road
Other Traffic Interruptions
Chatham County
SR 25 CSX closure in Garden City                                
Railroad crossing removal between Brampton Rd & Nelson Ave.
9am, Tuesday until 5pm, Wednesday
Detour route: Brampton Rd., SR 21/Augusta Rd., SR 307/Bourne Ave.