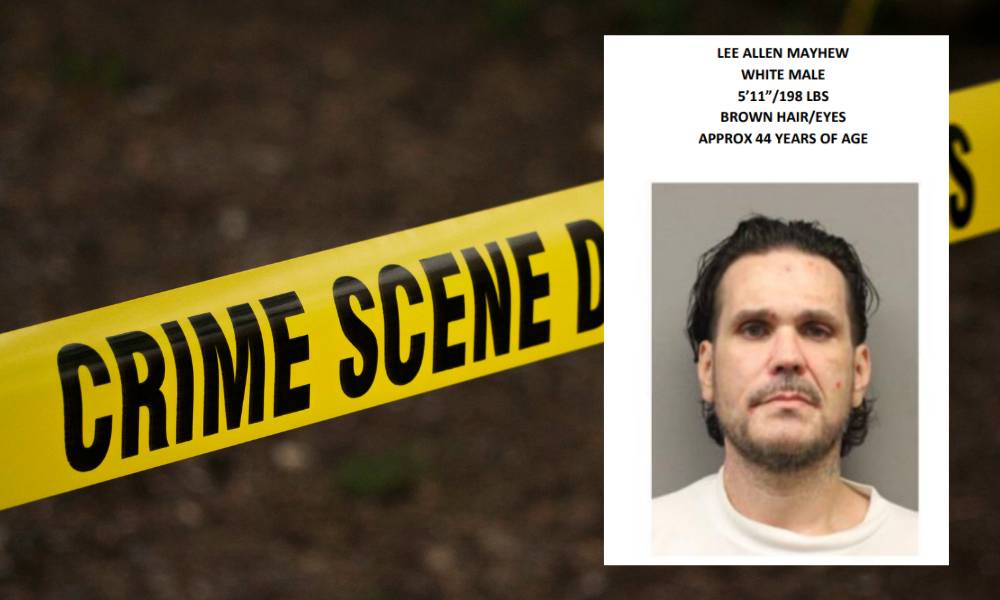 A man who prompted a multi-agency, multi-state manhunt after an interrupted home burglary and subsequent murder has been arrested with the assistance of other agencies.

Lee Allen Mayhew, age 44, was arrested on October 24, 2020 and charged with felony murder, aggravated assault, possession of firearm during the commission of crime, theft by taking motor vehicle, and burglary over a two day period.
Just after 7:00 p.m. on Thursday evening, the Bulloch County Sheriff's Office notified the public of an interrupted burglary that prompted a helicopter search. The BCSO posted on Facebook that a burglar occurred in the are of Old River Road South and PW Clifton and asked citizens to be on the lookout for a 'green EZ Go golf cart with a black plastic roof and mud tires.' The office also informed citizens that a helicopter would be in the area assisting with the search of a possible suspect.
"We are unsure at this time but the suspect possibly left on the golf cart. We have no further description. We ask citizens to stay in their home and avoid that area so the deputies can concentrate on locating the suspect and not having to deal with onlookers. We appreciate your cooperation. We will release any pertinent information as necessary," the Facebook post said.
On Friday, October 23rd at 11:36 a.m., the Bulloch County Sherriff's Office released the following statement on a 'Wanted Person, Possibly Armed':
On October 22 at approximately 5:00 p.m. Deputies responded to a residence on Old River Rd. South for a residential burglary in progress call. Initial information indicated that the  homeowner had returned to his residence to find a suspicious vehicle parked in his carport. Upon further investigation the homeowner realized that his house had been broken into and several items, including firearms, were missing. Responding Deputies requested that Sheriff K-9's respond to the scene to attempt to track the offender(s). Preliminary investigation led to the identification of at least one offender involved in this crime. LEE ALLEN MAYHEW has also been identified as being previously wanted by the United States Marshals Office for federal firearms violations. Members of the U.S. Marshals' Fugitive Squad responded to the scene to assist in the search. A Georgia State Patrol Air Unit also assisted in the manhunt. Mayhew has not been located at this time. It is likely that he fled the scene on a Easy Go brand golf cart, green in color, that was also stolen. Citizens should be aware that Mayhew is most likely armed and should not be approached. Any person observing Mayhew should contact the Bulloch County Sheriff's Office or dial 911.
The GBI, according to a press release, was requested by the Bulloch County Sheriff's Office on Friday, October 23, 2020, at 6:50 p.m.. The call was in relation to a death investigation.
From the news release:
Preliminary information shows that Bonnie Lanier Rushing was murdered at her home located on Stilson Leefield Road, Statesboro, Georgia in the afternoon hours of October 23rd. Rushing was found deceased at her home with a gunshot wound.  It appears that the perpetrator entered the residence and at some point had contact with Rushing.
During the incident, Rushing's car was stolen and subsequently tracked and located in Florida.  Mayhew was arrested without incident in Florida by Florida law enforcement officers.
Mayhew is in custody and being held in Florida pending extradition to Georgia.  Additional charges are pending.
The GBI says there are no other known suspects or threats connected to this case still at large.
The Bulloch County Sheriff's Office posted on social media Saturday, saying:
"The suspect in Thursday's Old River Rd. burglary, Lee Allen Mayhew, is in custody in Columbia Co, Fla. He was arrested in a stolen vehicle belonging to Bonnie Rushing. He is being held on charges related to the burglary and Bulloch County will seek extradition back to Statesboro. The GBI is investigating a homicide that Mayhew is suspected of committing and they will be responsible for any further comments regarding that investigation. Mayhew acted alone and there are no other suspects being sought. Our thoughts and prayers go out to the Rushing family in this most difficult time."
The investigation is open and ongoing. If you have any information, please contact the Bulloch County Sheriff's Office at 912-764-1771 or the Statesboro Regional Office of the Georgia Bureau of Investigation at 912-871-1121.