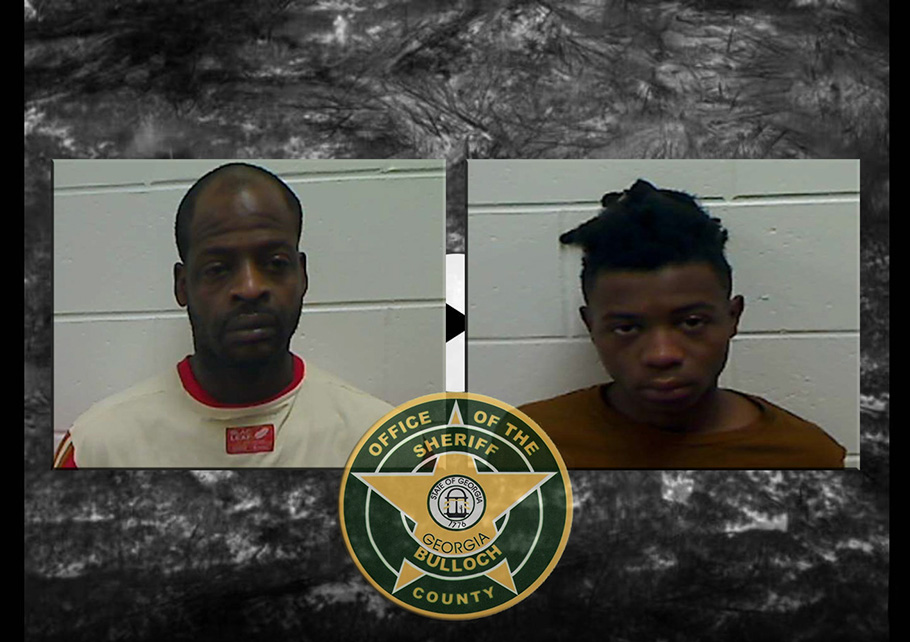 Bulloch County Sheriff's Office Deputy Isaiah Rehl attempted to conduct a vehicle stop early Sunday morning. Deputy Rehl said the driver appeared to have a handgun, and as he attempted to make contact the driver drove away. Deputy Rehl then followed the vehicle to a dirt driveway where the driver and a passenger fled on foot. Another passenger stayed with the vehicle and cooperated. K-9 Nik and a drone were requested. The drone detected one subject and K-9 Nik located the second. Both subjects, Antwon Simpson and Veunte Gross, were arrested and transported to the Bulloch County Jail. See the drone footage below.

From BCSO:
On January 15th shortly before one o'clock in the morning, DEPUTY ISAIAH REHL conducted a vehicle stop on a car with no taillights traveling down 301 S. Upon approaching the vehicle REHL observed that the driver appeared to have possession of a handgun. As REHL attempted to contact the driver he sped off. DEPUTY REHL attempted to follow the vehicle as it made a U-turn then pulled onto a dirt driveway, at which time the driver and a passenger fled on foot. The owner of the vehicle, who was not driving at the time, stayed in the vehicle and was cooperative.
As it appeared likely that one or both of the fleeing subjects were armed, a K-9 and drone were requested to respond to the scene. The drone detected a subject lying on the ground using a F.L.I.R. camera (Forward Looking Infrared). His location was relayed to the K-9 team on the ground. K-9 "Nik" was able to locate the second subject as they were being directed to the area.
Both individuals were taken into custody and were identified as ANTWON SIMPSON and VEUNTE GROSS. SIMPSON was armed with a handgun when he was arrested. Suspected narcotics and drug paraphernalia were also located.
Sheriff Brown stated this was an excellent example of coordination between the K-9 Team, U.A.V. Unit and all initial responding Deputies. He stated it was fortunate no one was injured, and once again demonstrates how dangerous any traffic stop can be for law enforcement.