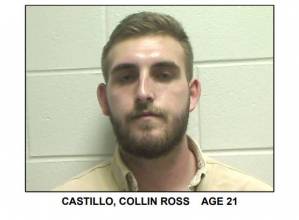 The Bulloch County Crime Suppression Team recently made an arrest after an investigation into a Bulloch County man reportedly selling unlawful drugs often purchased on the dark web and paid for in cryptocurrency.

The Bulloch County Sheriff's Office said in a news release this week that investigators launched an investigation in February into an individual named Collin Castillo who lived at the Cottage Row Apartments located at 17358 Highway 67 in Statesboro, Georgia. Castillo was suspected to be selling quantities of liquid Etizolam, a Benzodiazepine derivative not approved by the Food and Drug Administration (FDA) and commonly imported into the country buy use of the "dark web" and paid for with untraceable crypto-currency.
From the news release:
As the investigation continued to move forward through undercover buys and operations, Castillo purchased a quantity of Xanax via the "dark web" which was shipped to Castillo's residence. Investigators were able intercept the package which contained over 1,100 pressed pills with markings not consistent with any Pharmaceutical drug manufactured in the United States.
Castillo was arrested where he remains in the Bulloch County Jail without bond. He's been charged with the following offenses:
Sale of a Schedule IV Drug

Possession of a Schedule IV drug with intent to distribute

Possession of firearm during the commission of a crime

Criminal Attempt to distribute a schedule IV Drug

Possession of marijuana (less than 1 ounce)

Possession of a drug related object