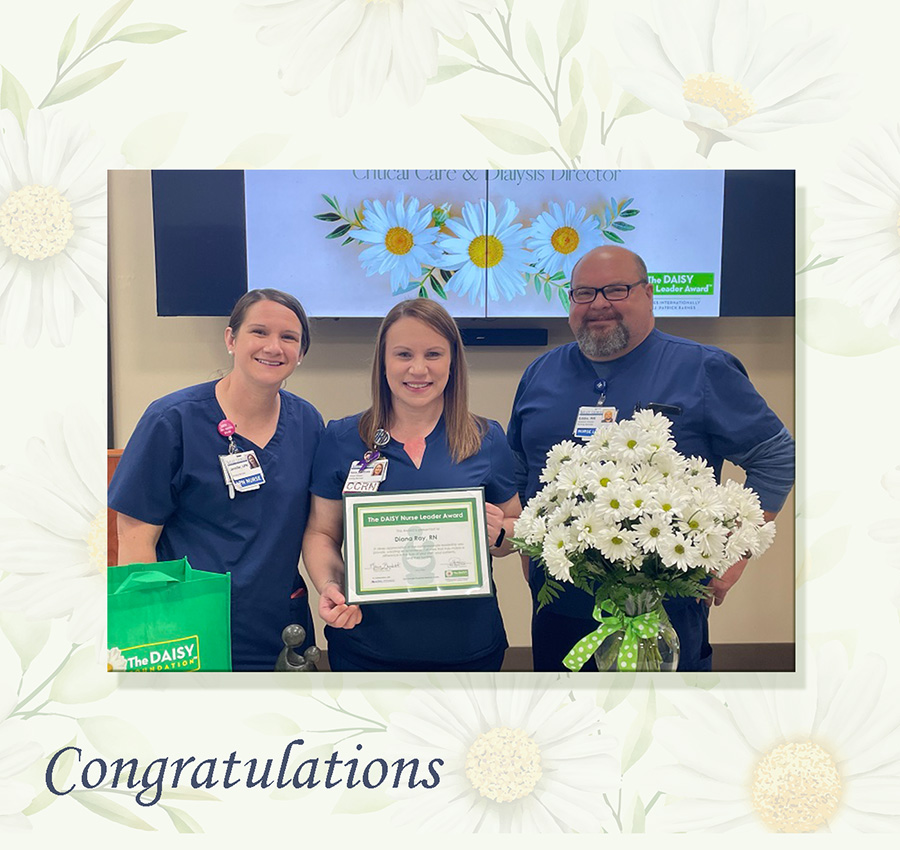 Diana Ray, RN, was honored with the 2023 Nurse Leader DAISY Award for Extraordinary Nurses at EGRMC:

EGRMC RN Diana Ray was selected as the 2023 Nurse Leader Daisy awardee this past week at a luncheon with the EGRMC leadership and staff.
"This was a complete surprise. Everyone who gets an award here always says that it truly amounts to everybody in this room and in these walls and I truly believe that," said Diana Ray. "This is family. I have been here a very long time and everybody in this building is family to me. Thank you all."
Diana Ray courageously led her team through COVID 19 during the most challenging times our generation has witnesses in healthcare. She is responsible for all critical care areas, the monitor tech room, and dialysis. She led the effort to implement critical care IDT rounds. Diana standardized ICU admit/discharge criteria, ABCDEF bundle with delirium protocol in place, and vent management protocol.
"Diana has worked extremely hard to lead 5 departments and have them work as a cohesive team to make EGRMC a better place for our patients, for employees to have a great environment to work, and physicians to practice medicine," said Stephen Pennington, CEO.
Diana is very involved in her community serving weekly at the local soup kitchen, she teaches Sunday school at St. Matthews, and she serves on the board at Safe Haven, and coordinates our PFAC committee.
Below are a few quotes taken from staff members who nominated her:
"During times of conflict or disagreement among peers or employees Diana remains neutral and instead of feeding into the situation she chooses to help you look at the situation from a different perspective."
"It's easy to see the negative in a situation, but instead of fixating on that she encourages you to provide a solution to the issue or think of how you can help someone improved their skill sets. She often reminds you to simply have "grace" for one another because you never know what someone else is carrying."
"You can always count on her to tell you "No worries… we got this or I got you" when times are trying or you just need to take a breath!"
"She always sees the good in everyone and truly encourages others to see it also!"
Nurse Leader Daisy Award
The following criteria are listed for the recipient of the nurse leader Daisy Award:
They provide a haven of safety for staff, both physically and emotionally
They ensure standards of quality patient care are maintained
They ensure nurses have access to the technology and equipment they need – and the information
They manage human and financial resources across staffing, supplies and more
They drive team development, resiliency, and competency, ensuring their team members are meaningful recognized for the work they do for patients and families
These leaders provide a setting where compassion is valued, and staff, in turn, treat patients and their families with deep humanity
As their work is different, so are the criteria for The DAISY Nurse Leader Award. Nurse leaders are recognized for:
Creating an environment where attributes of trust, compassion, mutual respect, continued professional development and ethical behavior are modeled and supported
Being accessible, available, and responsive to the needs of their team
Problem-solving and encouraging critical thinking
Advocating for their teams
Ensuring that the needs of the teams are communicated to organization leadership and organizational priorities and directions are communicated to their teams
Being compassionate leaders