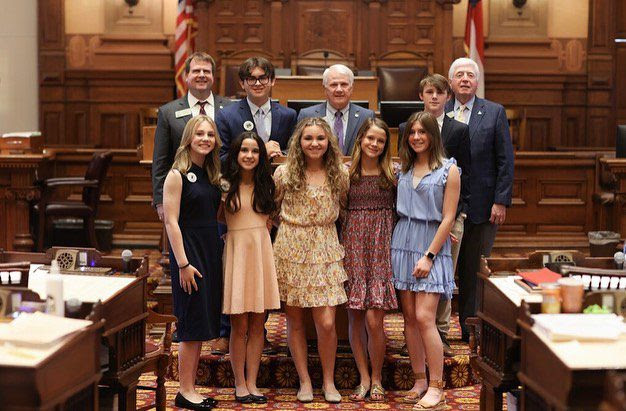 By: Lehman Franklin, Georgia State Representative, 160th District

The Georgia General Assembly returned to the State Capitol for the final two days of the 2023 legislative session on Monday, March 27. On Wednesday, March 29, the session came to an end as the House and Senate completed Legislative Day 40, which is also known as "Sine Die," a Latin term meaning "without assigning a day for further meeting."
During these two eventful days, my colleagues and I worked late into the night to vote on legislation that will impact communities across our state. I will share some of the bills that we voted on from the Rules calendars, as well as highlight a few House bills that received final passage this week. Now, all of the bills that received final passage before we adjourned Sine Die will go to Governor Brian Kemp for his final consideration.
Fiscal Year 2024 (FY 2024)
Before we adjourned on Sine Die, the state legislature approved a Conference Committee Report for House Bill 19, or the Fiscal Year 2024 (FY 2024) budget, fulfilling our one constitutional obligation of the session. Effective July 1, this final version of the FY 2024 budget is set at a revenue estimate of $32.4 billion, which is $2.2 billion, or 7.4 percent, more than the Fiscal Year 2023 budget.
More than 50 percent of this state budget is dedicated toward funding our state's K-12 and higher education systems and includes $13.1 billion to fully fund the Quality Basic Education program and an additional $50.2 million in lottery funds to bring the HOPE factor rate for scholarships and grants up to 100 percent of last year's tuition costs.
I am also excited to announce that certified teachers and school employees would experience a $2,000 increase to the state base salary schedule through this budget.
Nearly a quarter of the FY 2024 budget would go toward health and human services, and within this crucial budget area, we included $42.2 million for Medicaid reimbursement rate increases for providers.
To ensure the House's public safety priorities are reflected in this budget, this conference committee report includes:

$23.5 million for a total compensation increase of $4,000 for more than 3,900 law enforcement officers across 12 state agencies.
Front-line state officers would receive an additional $2,000 salary adjustment in certain departments.
Finally, almost 10 percent of the FY 2024 budget would go toward economic development and general government services, and seven percent of the budget would support transportation infrastructure improvements.
This robust budget is full of bipartisan initiatives, and you can find more highlights from the FY 2024 budget here. HB 19 has now been sent to the governor for his consideration.
Improving Juvenile Court Proceeedings/Foster Care System
During Legislative Day 39, we passed a Senate bill to help standardize the process for children who may be taken into the state's custody.
To help avoid placing children in foster care unnecessarily, Senate Bill 133 would clarify several of Georgia's code sections to improve juvenile court proceedings for children who are in need of services, also known as "CHINS," or for child delinquency or dependency proceedings.

Under this bill, prior to placing a child in the custody of the Georgia Division of Family & Children Services (DFCS), the court would first consider what state services have been provided to the child or the parent/guardian or what services may be available to allow the child to remain in their home.
A judge would also consider what efforts have been made to secure the placement of a child other than in custody of DFCS or if a child protective services report was made.
After a child is ordered into the custody of DFCS, the bill would mandate that a preliminary protective hearing take place within 72 hours of the placement and require all parties to provide copies of medical, psychological and educational assessments and reports of the child or the child's parent/guardian to DFCS, which would give the state more time to act quickly to find a place for a child in need of an alternate living situation.

In recent years, the state has struggled to find housing and foster families for children with complex needs, which has resulted in these children staying in hotels and other temporary spaces.
If Gov. Kemp signs this bill into law, DFCS and our court systems could do a better job ensuring that children receive appropriate care, have placement options identified in a timely manner and, hopefully, provide services that could avoid placing them into foster care altogether.
Water Safety Plans for Swimming Lessons
We also unanimously passed a measure that aims to prevent drowning accidents during swim lessons. Senate Bill 107, or Izzy's Law, would require the Georgia Department of Public Health (DPH) to develop a model safety plan for private swim instructors to utilize by January 1, 2024.
This safety plan would include minimum standards for student-to-instructor ratios, secondary supervision recommendations, parent or legal guardian attendance, as well as the use of cardiopulmonary resuscitation certification.
Private swim instructors would be required to use DPH's model aquatic safety plan or have their own water safety plan in place by April 1, 2024.

Violations of SB 107 would be considered a misdemeanor charge with a minimum fine of $200 for the first and second violation, as well as a $1,000 maximum fine for third and subsequent violations.
This legislation is named after Izzy Scott, a four year old boy who drowned on his second day of swimming lessons at a private pool in Georgia. Following the tragic death of this young boy, Izzy's family found that our state laws lacked safety standards for these private swim instructors, which initially prevented prosecutors from bringing charges against the instructor.
We were honored to have Izzy's family join us in the House gallery this week to watch the passage of this important legislation. If SB 107 is signed into law, Izzy's Law would ensure that swim instructors have a plan in place to help prevent future drowning accidents from happening to the children entrusted to their care. This bill received final passage before the session adjourned.
Building Georgia's Electric Infrastructure
The House also overwhelmingly passed Senate Bill 146 to provide a regulatory framework for elective vehicle (EV) charging stations and allow our state to regulate these charging stations to the same extent as gas pumps.
SB 146 would provide that the sale of electricity at EV charging stations would be similar to the sale of gasoline, and this Senate measure would establish an excise tax set by the Georgia Department of Revenue to ensure that our state collects revenue similar to revenue that is typically collected from gasoline sales.
The bill would give the Georgia Department of Agriculture regulatory authority over EV charging stations, including inspecting these stations.

All EV charging stations would be required to charge vehicles on a per kilowatt-hour basis as a retail sale and include meters to record the total kilowatt-hours.
These charging stations would also be required to provide accurate readings of electricity to their customers. Furthermore, electric utilities could not provide, own, operate or maintain any publicly available charging station unless it is done through a separate legal entity.

As the EV market continues to grow in Georgia, its infrastructure must be able to efficiently and fairly support EV drivers, and SB 146 would lay the necessary groundwork for this developing industry. This bill received final passage this week and has been sent to Gov. Kemp for his consideration.
Re-establishing the Criminal Case Data Exchange Board
On Legislative Day 40, we passed legislation to help to dedicate state resources toward making sure that the state's criminal case information is accurate, up-to-date and easily accessible to the appropriate parties.
Senate Bill 272 would reestablish the state's Criminal Case Data Exchange Board, which previously operated under the Criminal Justice Coordinating Council and later within an organization under the Council of Superior Court Clerks, to now operate within a board under the Judicial Council and its Administrative Office of the Courts.

The board would help review the state's criminal case data exchange and management systems; make recommendations to improve data sharing with the public, employers and law enforcement; provide regular advice and counsel to the Judicial Council of Georgia; and update uniform standards.
The Criminal Case Data Exchange Board would also report its progress and findings to the General Assembly annually. By December 2024, the board would conduct a feasibility study with criminal justice experts to develop a system for tracking and analyzing criminal history data regarding recidivism, criminal plea agreements and immunity defenses, and this board would also study a system to track human trafficking charges and whether those charges resulted in convictions or pleas of lesser or related charges; the board would share these results with the legislative, judicial and executive branches.

The reestablishment of the Criminal Case Data Exchange Board would help improve the accuracy and accessibility of critical case information and provide valuable insight into the effectiveness of the state's criminal justice system, helping to inform data-driven decisions related to criminal justice policy and practice. The Senate agreed to the House's updated version of SB 272, which means this bill is also on its way to the governor's desk.
2023 Study Committees
Each session, the House establishes study committees that work throughout the summer and fall to examine specific policy issues and/or topics that are important to Georgians. Before the session ended, the House adopted several measures to create new study committees that will certainly keep us busy until the 2024 legislative session.
On Monday, my colleagues and I adopted House Resolution 488 to reauthorize the House Rural Development Council (HRDC) for the next two years.

Created by the late Speaker David Ralston in 2017, the HRDC will continue to work with rural communities to find ways to encourage economic growth and job creation and develop effective legislative solutions targeted toward supporting these communities.

We also approved Senate Resolution 175 to create two study committees this interim, including the Joint Study Committee on Dual Enrollment for Highly Skilled Talent at Younger Ages.

This education-focused study committee will examine existing and potential dual enrollment opportunities to develop highly skilled talent at younger ages.

SB 175 also establishes the Joint Study Committee on Service Delivery Strategy (SDS), and this group will explore how to assist local governments as they create SDS plans for their communities.
The House adopted House Resolution 603 to create the House Study Committee on Certificate of Need (CON) Modernization, which will address how our 40-year-old CON laws can be improved to meet today's health care needs.
Finally, House Resolution 519 was also adopted to create the House Study Committee on Fishing Access to Freshwater Resources, and this group will examine recent issues that have hindered public access to our rivers and other waterways.
In the coming weeks, Speaker Jon Burns (R-Newington) will appoint various House members on both sides of the aisle to serve on these legislative study committees.
Final Passage of House Bills
My colleagues and I also gave final passage to a flurry of House bills on Legislative Day 40, and I would like to make you aware of just a few of these bills that are on their way to the governor's desk.
While a number of House bills did not receive final passage before we adjourned, the General Assembly will have a chance to take up these House bills again during the 2024 legislative session.
Signing Bills into Law
Although the 2023 legislative session has officially come to an end, I look forward to sharing more updates about different bills that made it across the finish line this session and are on their way to becoming official laws.
Over the next 40 days, Gov. Kemp will sign or veto measures that received final passage by the House and Senate this session. Any bill the governor signs will become law, and any legislation not signed or vetoed within this 40-day period will also automatically become law. House bills that did not receive final passage this session have been sent back to their respective committees, and these bills will be eligible for consideration again next year. I hope that you will contact me if you have any questions regarding potential new state laws or if you have any suggestions for future legislation.
3 of My Bills Have Passed!
I am proud to announce that all 3 of my bills have passed both chambers of the assembly and will now be on the Governors desk for his signature.
I want to thank my colleagues in the Senate and House for supporting this important legislation. Be sure to sign up for my newsletter at www.LehmanFranklin.com to stay up to date and as always contact me for any issues or concerns you might have.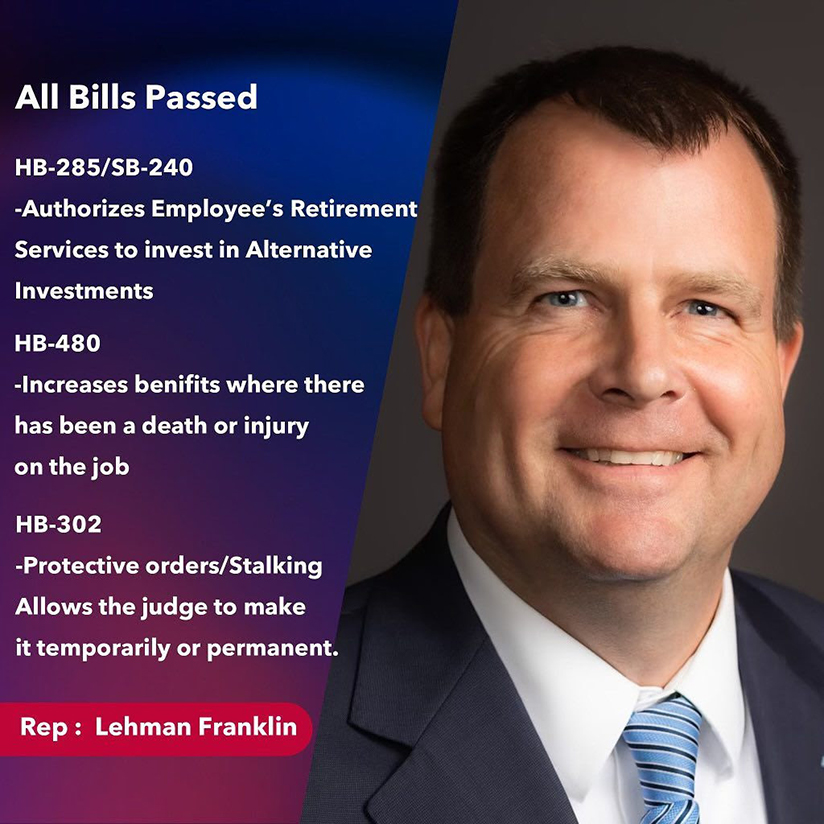 Major General Randall Simmons Retirement
It was my great honor and pleasure to read and present House Resolution 415 to my friend, Major General Randall Simmons commemorating his retirement from the Georgia National Guard. Major General Simmons honorably served his Country and State for 34 years. On March 25th he was honored for his dedication to his country at a retirement ceremony at Georgia Southern University. Thank you Major General for your commitment and selfless act of service to Georgia and the United States of America.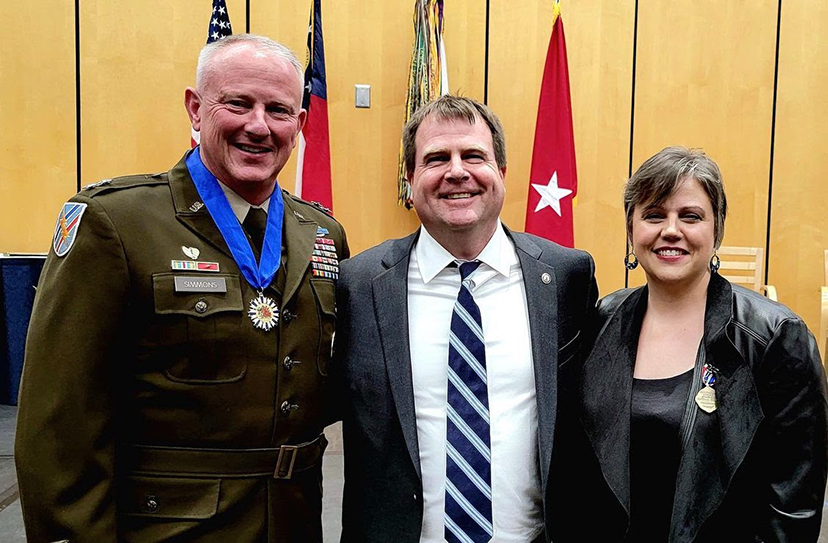 Dealer Day at the Capitol
It was Dealer day at the Capitol yesterday! As Chairman of the Georgia Automobile Dealers Association, I was proud to be joined by my colleagues in the industry at our legislative advocacy day at the Capitol. This day gives dealers the opportunity to sit down with elected officials to discuss in person the issues that we as an industry are facing. I want to thank Lt. Gov. Burt Jones and my many colleagues in the House and Senate for taking time out of their day to meet with their constituents to discuss how we can work together to find solutions for Dealers across Georgia.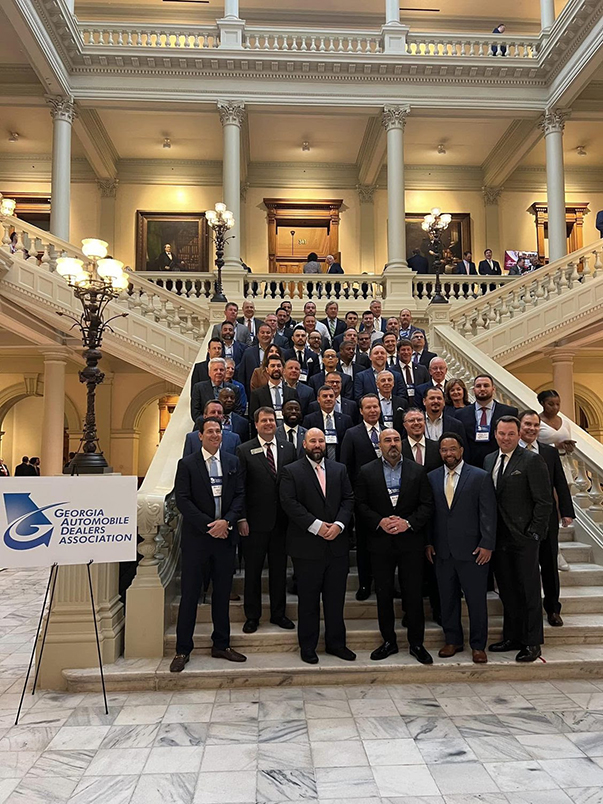 Page Help
I had some more help at the Capitol! It was my pleasure to have Avis Cooke and Lucy Wall join me as pages in the Gold Dome. I was glad they had the opportunity to see government in action and to learn the legislative process. Thanks to Laura Franklin Cooke and Marie Bandy Wall for bringing them in to help!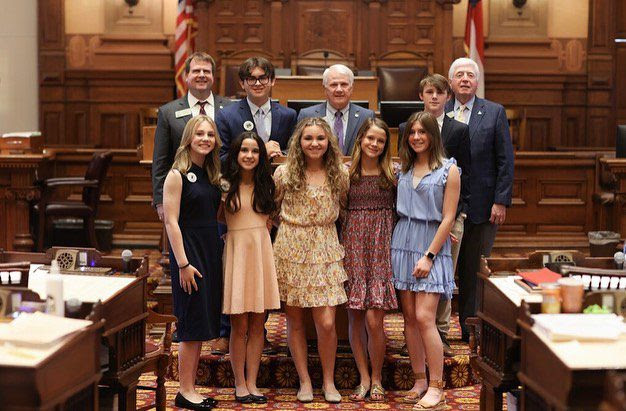 I am excited to be coming back to my home district after a successful legislative session. Please feel free to continue to reach out to me if you have questions about any legislation.
My capitol office is located at:
501-F Coverdell Legislative Office Bldg
Atlanta, GA 30334,
My office phone number is 404-656-0178, and my official email address is lehman.franklin@house.ga.gov.
Please feel free to reach out to me anytime.
As always, thank you for allowing me to serve as your representative,
Lehman