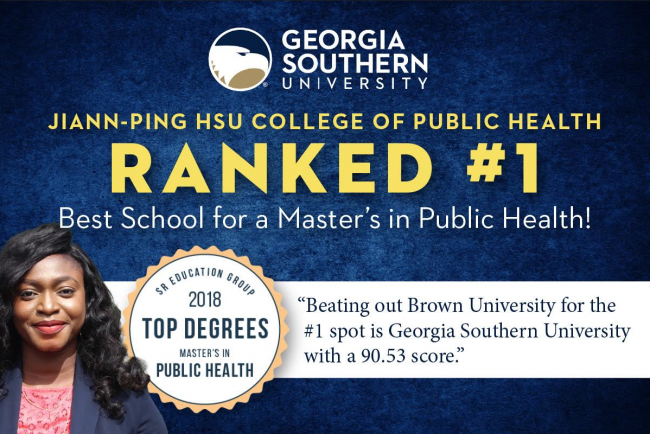 Georgia Southern's College of Public Health program is celebrating.

The Master of Public Health (MPH) program in the Jiann-Ping Hsu College of Public Health (JPHCOPH) at Georgia Southern University has been ranked #1 in the nation by SR Education Group.
The list of the top 13 MPH programs, which includes Brown University and Emory University, is based on student reviews from 2018.
SR Education reports that the faculty, job preparation and research opportunities presented in Georgia Southern's MPH program are especially notable.
"The entire public health college truly cares about each student," one student said as quoted in the news release. "The professors would meet with each student on a regular basis to help the student figure out what specific area they are most interested in. I felt extremely prepared and confident during my internship."
"I like how my graduate program is competitive and offers many opportunities for health research," wrote another student. "I also like the accessibility of the classes and the relationships that can easily be formed with the professors who care and take time out of the day to work with their students."
The MPH Program at Georgia Southern trains students to understand the role of community empowerment, community mobilization, networks and partnerships in the development of policies to help affected populations.
For more information on the SR Education public health graduate program rankings, click here.