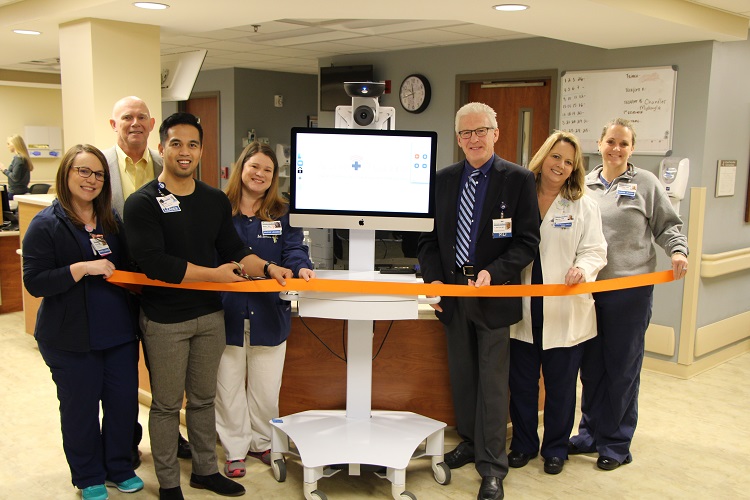 East Georgia Regional Medical Center recently opened a tele-stroke and tele-neurology program that allows neurologists to remotely consult with emergency medicine clinicians and evaluate patients, diagnose stroke, and order treatment. The addition of the HIPAA-compliant communication equipment will expedite the evaluation of potential stroke patients by a neurologist.

Stroke is the fifth leading cause of death in the United States, and delivering treatment as fast as possible is critical to preventing severe brain damage and death. As a stroke can occur at any time, day or night, a neurologist may not be at the hospital when a suspected stroke patient enters the emergency department (ED). This technology will ensure that a neurologist is able to respond in less than 15 minutes.
This telemedicine cart will allow the on-screen neurologist to control the camera and perform an assessment (with assistance from clinical staff). Upon reviewing the patient's medical information, the neurologist will be able to quickly determine if the patient is a candidate for Alteplase (often referred to as TPA).
Alteplase is a time-sensitive medication that can counteract a stroke. However, it must be administered within four and a half hours of symptom onset. Because of this, EGRMC emphasized that it is extremely important that a patient go to the hospital as quickly as possible if stroke symptoms occur. Call 9-1-1 immediately if you see one or more signs of a stroke: Sudden numbness or weakness of the face, arm or leg, especially on one side of the body; Sudden confusion, trouble speaking or understanding; Sudden trouble seeing in one or both eyes; Sudden trouble walking, dizziness or loss of balance; Sudden severe headache with no known cause.
"Stroke is an emergency situation where time is critical. The faster a patient is treated for stroke, the more brain tissue we can save." Bryan Realiza, Chest Pain & Stroke Coordinator, said in a statement. "While we consistently provide safe, timely care to our stroke patients, we identified a way to deliver effective treatment even faster."