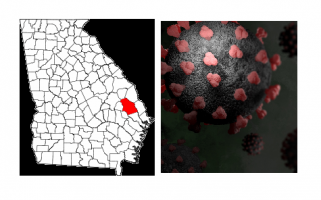 Bulloch County EMA confirmed Saturday that the fourth death in Bulloch County related to COVID-19 was a 90-year-old female.


EMA Director Ted Wynn said Saturday that Bulloch County is now in the 'substantial spread' category in the state. The following are the categories for spread as recognized by the Georgia Department of Public Health:
Substantial Spread: greater than 100 cases per 100,000 county residents
Minimal/Moderate Spread: 6-100 cases per 100,000 county residents
No/Low Spread: 1-5 cases per 100,000 county residents
As of Saturday, 272 people were confirmed COVID-19 positive Bulloch County – up by eleven in 24 hours.
East Georgia Regional Medical Center was caring for eight COVID-19 patients on Saturday, though not all are confirmed to be Bulloch residents. EMS transported one positive COVID-19 patients in the past 24 hrs.  To Date: 28 probable and 14 confirmed transports by EMS. Up 1 confirmed.