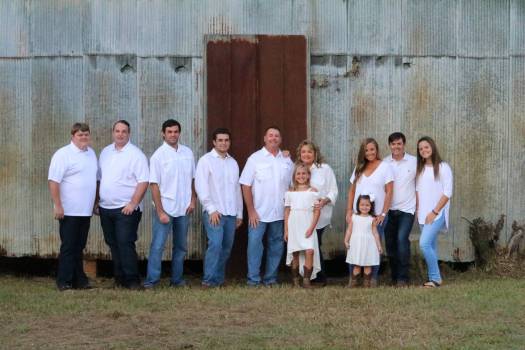 Due to the social distancing guidelines, we have converted our traditional AllOnGeorgia candidate video interviews into short questionnaires. Each candidate in the race was provided an identical questionnaire with the same deadline. (Questionnaires were emailed to the email address listed on the qualifying paperwork) Candidates were told their answers would be blank in the event that they did not respond. Answers were not edited in any way.

The Primary Election was moved to June 9th.
The last day to register to vote in the primary is May 11th.
Early voting begins May 18th.
To sign up to volunteer as a poll worker, click here.
---
Post 1 for the Bulloch County Board of Education is being sought by R. Ryan Brannen and Glenn Womack. The seat is currently held by Cheri Wagner, who is not seeking reelection.
Please provide a brief bio on yourself.
I am married to Windy Ellis Womack, also born and raised in our district; she has served our community for over 24 years working with Verizon. We are active members of Friendship Baptist Church where I teach Sunday School, and am a member of the Men's Ministry. We have four children, and three grandchildren, all have either graduated or are still in attendance in the Bulloch County School System. My family has been committed to the improvement of the educational experience going back to when HP Womack was a School Superintendent. My sister is a retired teacher from the Bulloch County School System, and my niece is currently teaching for our system. The family commitment to our schools, faculty, parents, and students will not waver during my tenure.
School Board positions are unlike many other positions of elected office. What led you to your

decision to run for the Board of Education?
I am running for office because of my passion for young people, children, and our community. I had many friends and neighbors reach out and ask me to consider running, so I prayed and asked our Lord if this was His plan for me, then He would make a way. My 30+ years working in various programs including but not limited to; youth church programs for pre-k & elementary, middle & high school, Boy scouts, and working with collegiate groups. My wife and I have four children that are graduates of the Bulloch County School System and two grandchildren that currently attend Portal Elementary.  I have owned and operated two successful small businesses in the community and since retiring from both I now have the time to commit to the position, serving our students and schools.
What is your vision for education in this community?
I want to make Bulloch County School System a great place to learn and work. I want to help make Bulloch County a top choice for families to move and raise their children here. One of my major focuses is to be efficient, especially with our budget. We need to have technical, vocational, instructional to meet the needs of today's careers. I will push to have JROTC program in our district that prepares our students, if they choose, for a military career.
How would the initiatives you hope to implement as a school board member help the students in the
district?
My initiative and vision mentioned in the previous question is to ensure that our district is represented in a fair and consistent manner. To build school-based leadership teams that consist of diverse, open minded individuals, who are concerned with improving the school system, making it safer, stronger, and working together to move it forward.
How would you handle the requests, if approached, by an individual? Special interest groups?
I would listen to that individual and clarify my understanding of requests to ensure any action taken is fair and consistent.  Every member of our education system in Bulloch County is valuable. I welcome input from everyone.
Describe the ideal relationship between the school system superintendent and Board of Education members.
Please consider including how members elected by the public maintain a level of control and accountability without micromanaging the day-to-day duties of the Superintendent.
The board and the superintendent work together as the governance team of the district. The board, team members, administrators, and teachers establish policy and vision for public education in the community. The superintendent executes the board's vision (via the strategic plan) and manages day-to-day operations. The superintendent is hired by, and reports to, the board.
In the development of a school district budget, what goals and objectives would guide your decision making?
Approximately 85% of budget is tied up in salaries and benefits. The remainder is allocated toward other operational costs such as fuel for buses, energy to heat, cool, and light schools, equipment and supplies for schools and support functions, etc. However, principals and district level department heads must have a school improvement plan or department improvement plan to identify their priorities in relation to the district's strategic plan. From that, they have the autonomy and discretion to allocate their resources toward their priorities. It comes down to putting your money where you can have the biggest impact in relation to the needs.
Amid the forthcoming budget cuts at the state and, very likely, the local level, what are your financial priorities for the school district?
It is unfortunate to have to face the cuts that we face. What is important is for us to figure out how to get through this without losing our long-term direction (i.e. strategic plan) without negatively impacting our students and team members. What is also important is that we use good discretion and make wise decisions.
In your view, what has the district done well over last 5? What has the district done that you would have like to see done differently?
I like the upgrades to our security and safety initiatives to protect the most valuable resource in Bulloch County, our students. I also like the one-to-one Chromebook initiative for our students in Bulloch County. Technology is forever advancing in our fast-paced society. I want our students to be prepared for that. Hindsight is twenty-twenty; I think that it is not the best practice to criticize things we have done in the past because as a district we are all trying to do what is best. I believe there is power in mistakes, because they guide us towards a better future.  
Is there anything else you would like the public to know about you?

 
Graduate of Portal High School.

 

Bachelor's degree of business administration from Georgia Southern University.

Owner and operator of Glenn's Mart/Ruby Parrish's store.

Franchisee for Hungry Howie's Pizza.

Forest Plantation farmer.

Friendship Baptist Church Sunday-School Teacher.

Father, Grandfather, Brother, and Uncle to the best family in the world.
Bulloch BOE District 1 Map