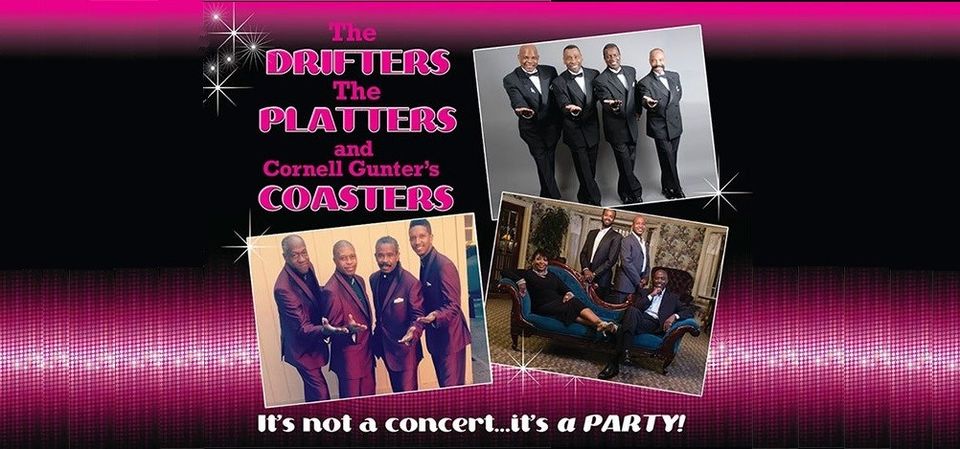 The Drifters, Platters, and Cornell Gunter's Coasters HOLIDAY HOP concert will be held Sunday, December 12, 3:00 pm – 6:00 pm at the Performing Arts Center at Georgia Southern University.


The event is hosted by Georgia Southern University Performing Arts Center, Georgia Southern University, and Georgia Southern College of Arts and Humanities.
Tickets are $25 and can be purchased on etix HERE. 
From GSU:
Come celebrate the holiday season with this nostalgic performance from three of the world's most beloved groups who were instrumental in creating the Motown sound. The rich combination of their Motown-defining catalog plus holiday classics has made this special HOLIDAY HOP program the longest consecutive running Christmas show in America. With such incredible musical diversity this show has songs to please every palate, delivered just the way you remember them, when you first heard them on the radio.
The PAC is complying with all university guidance regarding COVID-19. At this time, visitors are not required to be vaccinated or to wear a mask or face covering inside campus facilities. However, these guidelines are subject to change based on guidance from the university administration, the University System of Georgia, and the Georgia Department of Public Health. Performance dates and titles are also subject to change. Please join our email list or follow us on social media to receive updates. Visit the Performing Arts Center's Facebook page HERE.