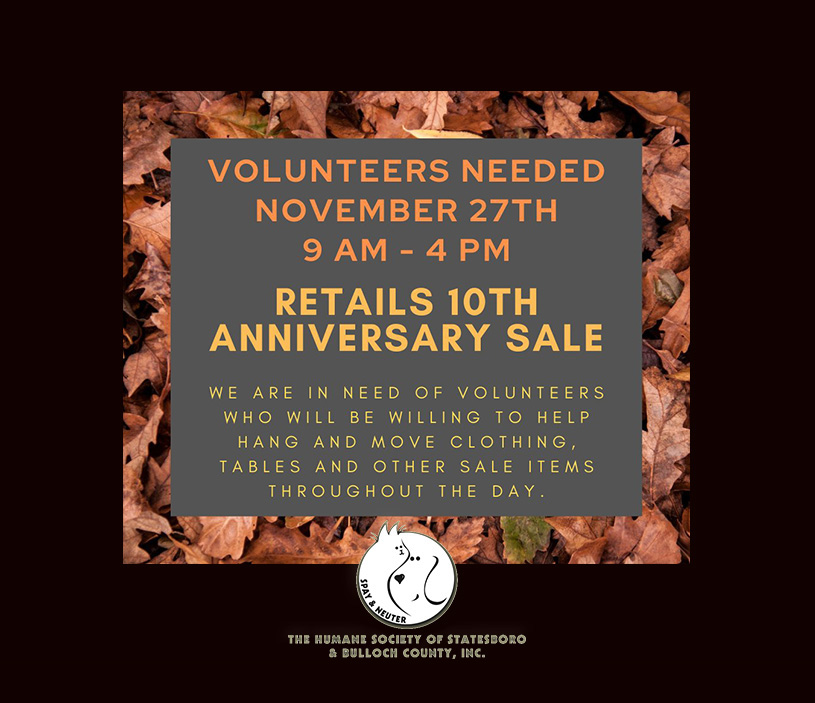 The Humane Society of Statesboro & Bulloch County's thrift shop, ReTails, is seeking volunteers for November 27, the last day of their 10th Anniversary Sale. Hours needed are 9:00 am – 4:00 pm.

Are you a student looking to complete some volunteer hours? Or just a Statesboro resident looking for an excuse to take a break from your family over the Thanksgiving holidays? Or are you and your family looking for a good way to help the community during this season of thankfulness?
ReTails is looking for several volunteers during setup and breakdown during the very last day of our anniversary sale – and every moment in between! We are having a massive clothing sale and could use as much help as possible getting our inventory on hangers and into the hands of those looking for a great bargain – all to help our local Humane Society: The Humane Society of Statesboro & Bulloch County, Inc.
If you'd like to check out the sale, ReTails is located at 105 N College Street in Statesboro. Their hours are Wednesday – Friday 12:00 pm – 5:00 pm and Saturday 10:00 – 3:00 pm.
Contact information:
912-681-9393
borohumane@gmail.com
Humane Society of Statesboro & Bulloch County's website and on Facebook 
ReTails on Facebook