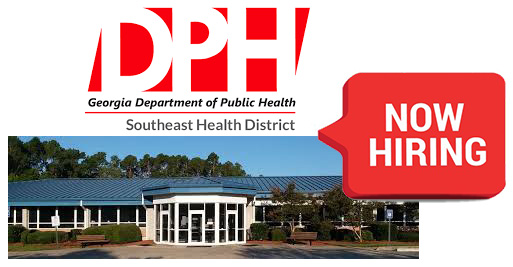 The Georgia Department of Public Health's Southeast Health District is hiring for Customer Service Representative and Health Equity Coordinator positions.


---
The Customer Service Rep 1, 2 , and 3 is a full-time salaried position with the Bulloch County Health Department in Statesboro.
Job Responsibilities – Under limited supervision, coordinates administrative operations requiring advanced knowledge of Health Department operations, policies, and procedures; Provides guidance, consultation, and technical assistance to clients and others within the organization; Researches and analyzes program/operation data and generates reports as needed.  Provides clerical support for different Public Health programs and excellent customer service to internal and external customers.
Click here for more information.
---
The Health Equity Coordinator is a temporary grant funded full-time position. It is located within the Southeast Health District, Home base negotiable.
Job Responsibilities – Under supervision, this position will liaison with the District Emergency Preparedness and Health Promotion Programs and the State, to promote, engage, and support individual and community members by connecting them with resources and services. The Health Equity Coordinator (HEC) will work among high-risk populations in rural communities to address COVID 19 concerns and vaccine hesitancy.  The HEC will supervise activities of Health Equity Coordinator(s) and ensure state annex deliverables are met.
Click here for more information.