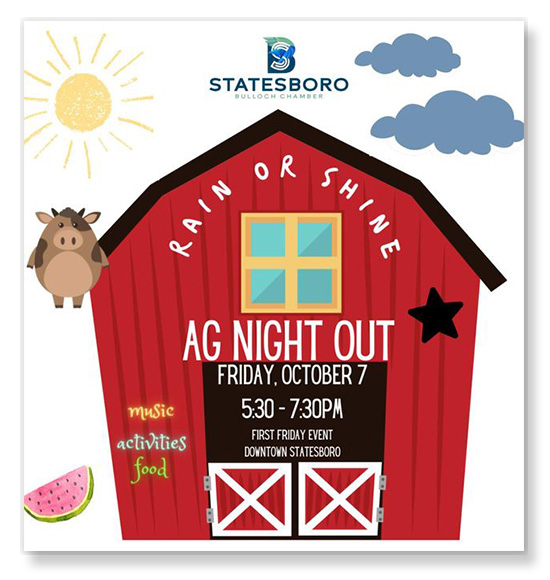 The annual First Friday Ag Night Out event will be this Friday, October 7, 5:30 – 7:30 pm.


Each year the Statesboro-Bulloch County Chamber of Commerce and the Downtown Statesboro Development Authority promote Agribusiness as a top industry in Bulloch County and the region with Ag Night Out as a First Friday event. Local farmers will bring farm equipment, while over 60 ag exhibits and vendors offer educational items and displays, locally grown food, and a variety of other goodies and activities. There will be farm animals, music entertainment, as well as a bouncy house and photo booth. Kids up to 10 years old will have the opportunity to participate in a farm themed costume contest.
The Bulloch County Historical Society will dedicate its West Main Street mural, River People, at the event.
East Main Street will be closed 3:00 – 9:00 pm.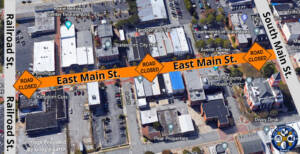 Ag Exhibits
AgSouth Farm Credit
Bulloch County Farm Bureau
Bulloch County 4-H
TIDEWATER EQUIPMENT
Shea Tractor & Equipment
Bulloch County Relay for Life
Nuthouse Farm
Shoemaker Equipment Supply
La Hacienda Western Wear
Southeast Bulloch High School FFA
Johnson Land Management Service LLC
Benton Metal Depot Inc
Synovus
Morris Bank
Howard Lumber Co
Bulloch County Agricultural Complex
Bulloch Fertilizer
Fancy Farms Inc.
McKeithen's Hardware
Tutt Land Company
SEBHS FCCLA
Vendors
A and J Funnel Cakes
Ar'Rion Brown
AT&T Statesboro
BIGDOG SNOWCONES LLC
Boro Learning
com
Boss Seafood
Cinnaholic
Cody's Art
Concerned Citizens Who Want to Save Agricultural Land in Bulloch
CORE Credit Union
Coca-Cola
Creative Collective
Designs by jill
Dream Vacations
Emergency Training
Esther's Place
Everything but the Squeel
Exquisite Hair 2
First Responder Candles
Freedom Through Recovery
Habitat for Humanity of Bulloch County
La Hacienda Western Wear
Limitless Counseling
Little Gems
LittleBits Gifts
Lolly the Clown/ Balloon Twister Lora
Luna's Gem
Mary Kay
Mike's Mailleworks
Miracles Children's Boutique
New Covenant Church
Overbrook Farm Scented Candles
Personalized Dog Bandanas.com
Phenomenally You LLC
Pittman Park UMC
Pure Romance by Dena Stapleton
Sheila's Handmade Bags
Snip Enterprises LLC
Southeast Health District
Southern Chiropractic & Wellness Center
Joseph's Candler Hospital
Sum'Mo Tea & Things
T-Mobile
The Bees' Knees
Unitarian Universalist Fellowship of Statesboro
Vyve Broadband
Wallow in the Woods Pig Sanctuary
Wavee Shavee Ice
Zen'Ergy Holistics
Sponsors
American Roofing
CORE Credit Union
Georgia Power
Colony Bank
East Georgia Center for Oral and Facial Surgery
Coca-Cola
Statesboro Oral & Maxillofacial Surgery
Southern Chiropractic & Wellness Center
Tormenta FC
McKeithen's True Value
Party Impressions
McLendon Enterprises
Party Harbor
Morris Bank
Shoemaker Equipment Supply
Statesboro Properties
Vyve Broadband