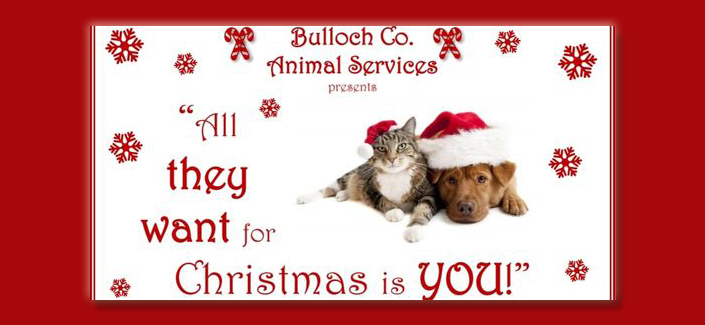 The Bulloch County Animal Shelter is hosting an adoption event, "All They Want for Christmas is YOU!", this Saturday, December 11, 12:00 pm – 3:00 pm.

Adoption fees will be waived at the event. All adoptable pets available will be spayed/neutered, and will have received a microchip and vaccinations, including rabies. Microchips will be available for personal pets for $10.
Santa will also be at the event to take pictures with you and your pet. Everyone is invited to make s'mores and decorate stockings for all the pets at the shelter.
BCAS says their goal is to give every pet at the shelter a new home for Christmas, and they can't do it without you!
Your little ones, or the kid in yourself, can also enjoy making smores or spending some time decorating stockings for our fur-babies that will be placed on their kennels thru our the shelter! These will be for when Santa comes back to deliver any extra treats
. So come join us for a little holiday fun while finding your new best friend and giving them your gift of love this Christmas!!