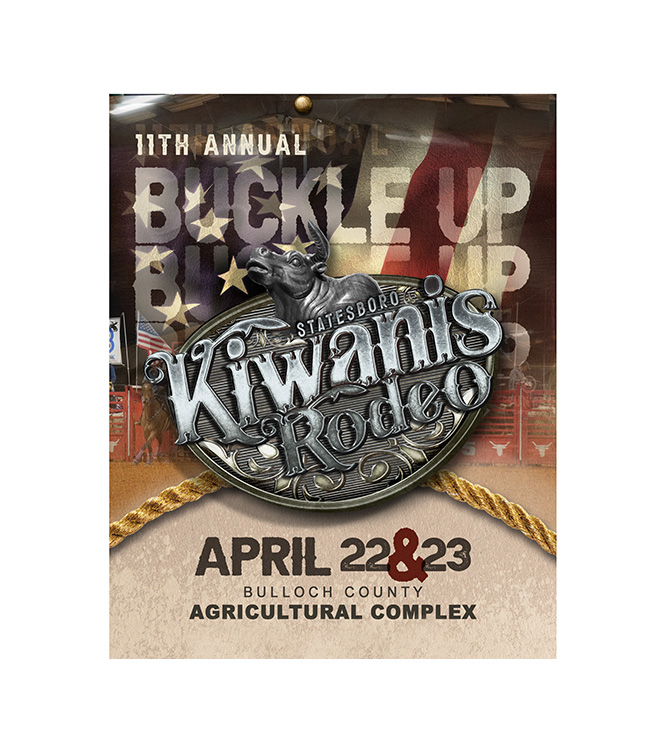 The Kiwanis Club of Statesboro is hosting its 11th Annual Statesboro Kiwanis Rodeo Friday, April 22 and Saturday, April 23. The gates open at 5:00 pm and rodeo starts at 7:00 pm both days.

The rodeo, produced by Hedrick Rodeo Company of Madisonville, Tennessee, will be at the Bulloch County Agricultural Complex, located at 44 Arena Boulevard.
Events include Bareback Bronc Riding, Saddle Bronc Riding, Steer Wrestling, Team Roping, Calf Roping, Barrel Racing, Bull Riding, and of course entertainment from the rodeo clowns. There will also be a meet and greet with the cowboys.
The 57th Miss Rodeo USA, Jessie Lynn Nichols, is visiting sponsors this week, and meeting fans at the rodeo Friday and Saturday.
Tickets  – Kids 3 and under get in free. Advanced tickets for kids 4 – 14 are $12. Advanced tickets for adults are $16.
See the rodeo book below. Purchase tickets and see more information on Statesboro Kiwanis Rodeo's website HERE.
kiwanis Rodeo-Book-2022