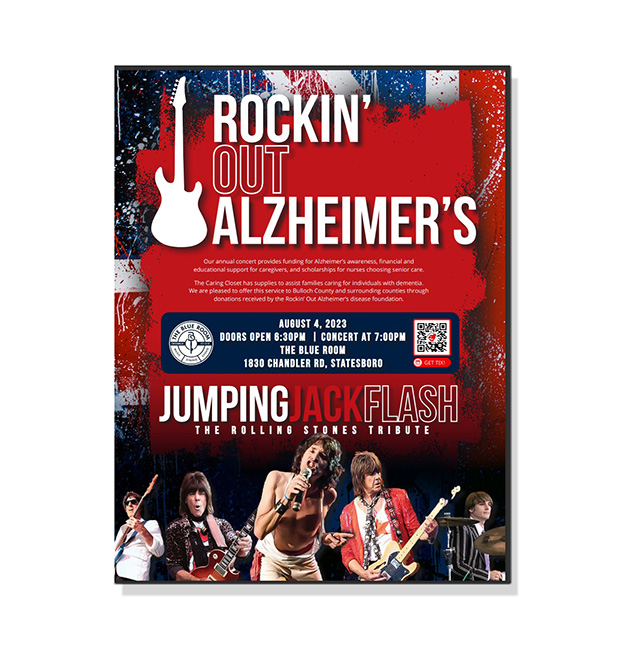 Presented by the Rockin' Out Alzheimer's Disease(R.O.A.D.) Foundation, the 10th Annual Rockin' Out Alzheimer's concert featuring The Rolling Stones Tribute Band: Jumping Jack Flash will be Friday, August 4, at The Blue Room. Doors open at 6:30 pm, concert starts at 7:00 pm. All proceeds will benefit the R.O.A.D. Foundation to support education and research for Alzheimer's.


Advanced general admission is $25. Purchase tickets online HERE.
About Jumping Jack Flash: the Los Angeles-based Rolling Stones tribute band!
There's no doubt that when it comes to rock & roll, the Rolling Stones define the genre. The bluesy feel, the swagger, the style; the Stones are the original bad boys of Rock. The Rolling Stones have spent the last 60 years creating and performing the soundtrack to the lives of millions. Now, Jumping Jack Flash travels the world delivering that same raw, high-energy, larger than life rock show night after night!
Often referred to as "the next best thing to the actual Stones," Jumping Jack Flash is the best Rolling Stones tribute band that you will have to see to believe! For the last 18 years, Jumping Jack Flash has built itself into what many consider one of the top tribute bands in North America; performing in and outside the US in theaters, amphitheaters, festivals, resorts & casinos, along with private and corporate events. If you missed the Stones in their heyday, here's your second chance!
Visit their website HERE.
About the Rockin' Out Alzheimer's Disease Foundation:
We started our foundation in 2012 with the hopes of expanding awareness and helping fight Alzheimer's disease by holding the softball tournament, Striking Out Alzheimer's. In 2013 we began our music concerts, Rockin' Out Alzheimer's, to help raise over $800,000 for the Alzheimer's Association. In 2018, we became an official foundation and have continued on doing our Rockin' Out Alzheimer's concerts.  
 We reopened the Caring Closet for Dementia patients, and continue to provide educational resources throughout the community. In addition, we provide funds to local caregivers and assist with education expenses of Georgia Southern nursing students who are majoring in Geriatric care. A scholarship has been established by the GSU Foundation. 
The 2020 concert was cancelled due to the COVID-19 pandemic, yet our sponsors were gracious to donate to our cause. In 2021, The Blue Room in Statesboro, Georgia, hosted our Fleetwood Mac cover-band concert raising over $80,000! Rockin' Out Alzheimer's concerts' primary focus is in memory of Ruth Ann Hill and our long-term goal is to turn this concert into the premier-event in the region, which consistently nets over $75,000 annually. The money raised supports Alzheimer's Research and the Alzheimer's Association. 
Visit their website HERE.