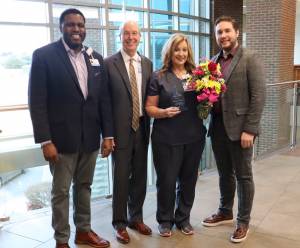 Meadows Regional Medical Center Director of Cardiopulmonary Michele Mimbs was awarded the hospital's prestigious Meadows Moment Award Friday, Feb. 14.

This special award was created to recognize staff members and physicians who are noticed for exemplifying Meadows' values of compassion, teamwork and integrity. Awards are given to deserving employees for coming up with new ideas, helping coworkers, and other efforts that bring value to the team.
Mimbs was nominated for taking time from her duties to give visitors a tour of the hospital.
"Michele is an amazing leader and an example of what a great employee looks like," said Jeffrey Harden, Vice President of Patient Care Services and Chief Nursing Officer. "Her dedication to this organization and its mission is second to none."
Mimbs has been employed with Meadows since September 2000 and currently resides in Vidalia.