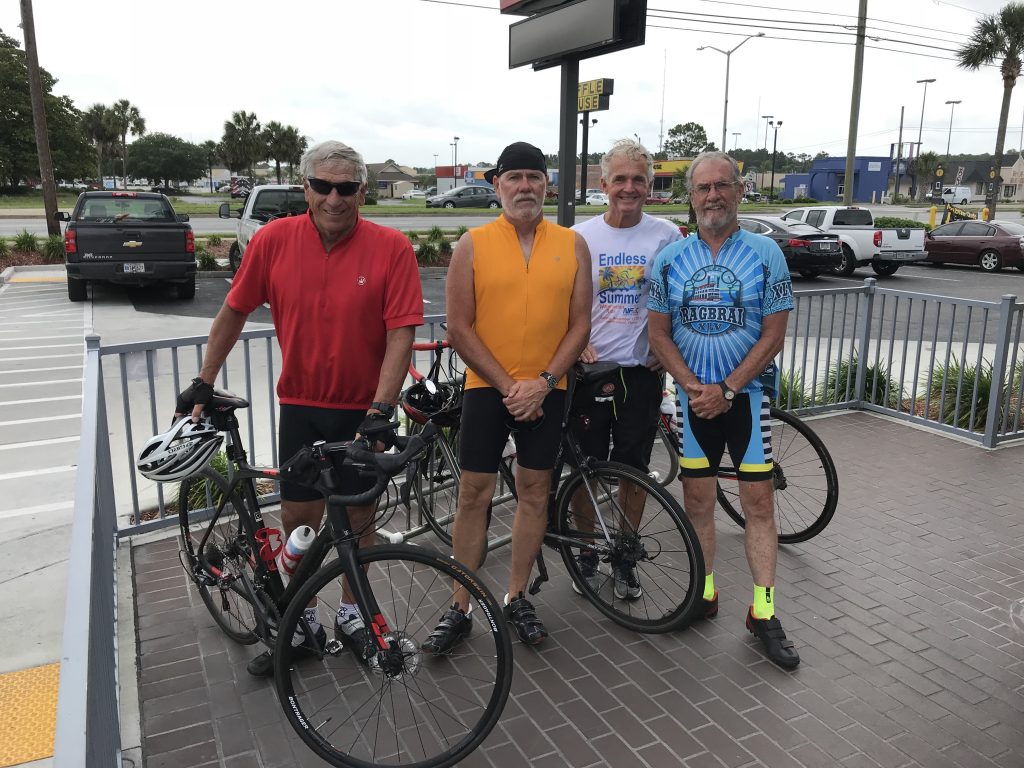 The Sidney Lanier Bridge is a landmark in the Golden Isles.
It's also popular with joggers and walkers who traverse the bridge to get good exercise.
If you travel the bridge with any regularity, you might have also recently seen bicyclist riding across the steep roadway in recent weeks.
For them, the bridge has served as the best location in the area to train for this year's Bicycle Ride Across Georgia which will pass through the north Georgia mountains this time.
Thus, the ride will be much different than one they would regularly encounter while riding down here in coastal Georgia.
"It's good simulation," said Phil Curry, a 73-year-old rider from St. Simons Island who will take part in BRAG which begins this weekend.
"There is going to be a lot of climbing,"added 68-year-old island resident Tom Klamer who will also will ride in this year's event. "We've been doing a lot of laps on the bridge."
This year, the week-long ride goes from Rome to Hartwell with daily stretches passing through Dalton, Jasper, Dahlonega, Clarksville and Toccoa. It starts on Sunday and ends a week from Saturday.
Most of the rides are at least 40 miles each day. That length is nothing new to the group of local riders that will participate in the annual event this year.
They ride three to four times a week and will usually cover about 135 to 150 miles a week.
"It's going to be hilly, but also a little cooler," said St. Simons Island resident Fred Collins, age 68. "It's going to be pretty, just physically challenging at times."
This past Monday, Collins, Klamer and Curry rode their usual "Brunswick loop" which included a pit stop at the McDonalds on Altama Avenue where they talked about their love for cycling and the upcoming BRAG event.
Gary Larkins, another local cyclist who participates in the state ride each summer, met them along the route and later that day got in some training on the Sidney Lanier Bridge in preparation for the ride through the mountains.
As usual, BRAG will attract hundreds of riders from all corners of the state this year. Some will ride fast and others will ride at a leisurely pace. But most everyone will ride with the same goal in mind and that's having fun along the way.
"I don't ride for speed," Larkins said. "Some people do, they like to go from Point A to Point B as fast as they can. Some of our guys will usually go 18 to 20 miles per hour. I usually go about 14.
"I like riding along, meeting people. Our group is fun. Some of them will ride together, but we usually eat together and see each other every night."
Larkins has participated in BRAG every year since 2006. He likes seeing the different parts of the state as ride organizers change the routes each year to cover most areas of the state over time.
"I like driving the back roads, so I like riding the back roads also," said Larkins, age 64. "Georgia has a lot of back roads, too. You get to see a lot of different scenery."
Larkins, a local teacher and soccer referee, says he rides his bike to stay in shape.
Most of the other local riders going on BRAG next week also pedal several miles weekly for the same reason.
Klamer, a retired surgeon who moved to the area three years ago from Kentucky, said he rides for exercise but also enjoys the social aspect of cycling.
"It's 50 percent exercise, 50 percent hanging out with the guys," he said. "We talk about sports, sometimes politics. We just hang out like we're 10 years old riding our bikes. We're not racing, not competing, just going along at a constant pace."
Klamer, who estimated that he rode some 4,500 miles last year, did BRAG for the first time last June when the route started in Athens and ended in Brunswick.
He had a good time.
"I'm from Louisville where there's lots of rolling hills and horse farms," he said. "Georgia has a lot of country roads and great scenery, and I like that."
Curry, who moved to the area from North Carolina many years ago, first participated in BRAG with his wife back in 2004.
He also started riding to get regular exercise.
"I used to do a lot of mountain biking," he said. "What I liked about BRAG when I first did it is that you have all these people doing the same thing, camping out and enjoying it. We did that for several years, and have kind of aged on camping each night, so we stay in hotels. But that was the fun part initially."
Collins would be the veteran among veterans in the local group. He took up cycling as a teenager and spent time competing with a racing team while living in Bolder, Colorado, many years ago now.
"I just love it," he said. "I love the machines, the speed, the adventure. I like it all."
He said he likes simply cruising around St. Simons Island on his bike, but also still enjoys riding faster on rides such as the one coming up this week.
"I like the fellowship of the ride and seeing the state," he said. "I've done BRAG about seven or eight times and did this same route about 12 years ago. It's a great route, just challenging at times, and I am 68 years old now."
Curry, who is five years older than his friend, says the old guys can handle it, especially with their experience behind the handle bars and their passion for the sport.
"There is a rest stop every 10 to 15 miles, so you can stop and enjoy places," he said. "We've got a lot of gears on our bikes, so you can set them so it's easier to pedal and easier to ride."