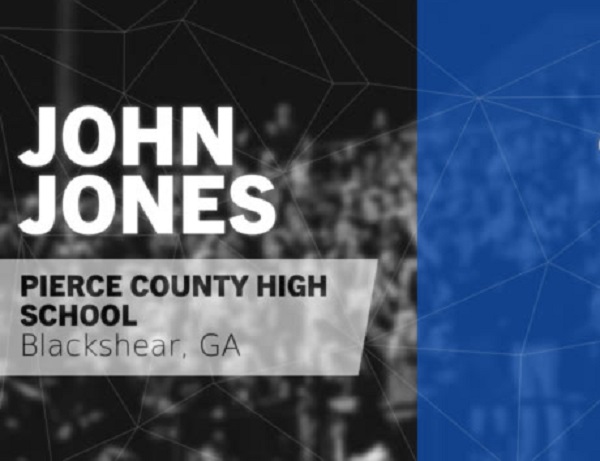 John Jones had a big game this past Friday night for the Pierce County Bears.
The 5-foot-10, 170-pound running back carried 15 times for 172 yards and two scores and also returned a kickoff 85 yards for a touchdown in the Bears' 49-7 victory at Brantley County in the first Region 2-3A game for both teams.
All said, Jones finished with 290 all-purpose yards for the Bears who are ranked third this week in the Southeast Georgia High School Football Power Poll with a perfect 6-0 record.
For his performance, Jones has been named the Southeast Georgia High School Player of the Week by AllOnGeorgia.
But many of the things Jones did in Friday's game and past games this season for the Bears don't necessarily show up in the box score or season statistics.
"He has become more of a complete back this year," said second-year Pierce coach Jason Strickland. "Last year, really all we could do was hand off the ball to him. This year, he's become a tremendous blocker. He's crazy, crazy physical.
"He's also catching the ball extremely well. He really worked hard in the offseason to be part of the passing game."
Strickland said Jones has blossomed into a team leader for the Bears.
"We've been making a transition philosophically. Our brand of football is just a little different than what they did here in the past," Strickland said. "We needed that pain-in-the-butt tough guy who almost would be like a bully to an extent.
"The way he is playing, with his physicality, he has helped change our identity with the kind of team we want to be. I don't know that I've ever been around anyone who is more competitive than he is on Friday nights."
Jones and the Bears will be at home this Friday night for another region game against Long County.
To see his highlights from the Brantley game, click here.
Players of the Week
Week 1 – Logan Watson (Camden County)
Week 2 – Kris Coleman (Liberty County)
Week 3 – Isaiah Jackson (Frederica Academy)
Week 4 – MJ Fuller (Wayne County)
Week 5 – Kevin Harris (Bradwell Institute)
Week 6 – Shamar Taylor (Wayne County)
Week 7 – KJ Lee (Brunswick)
Week 8 – John Jones (Pierce County)