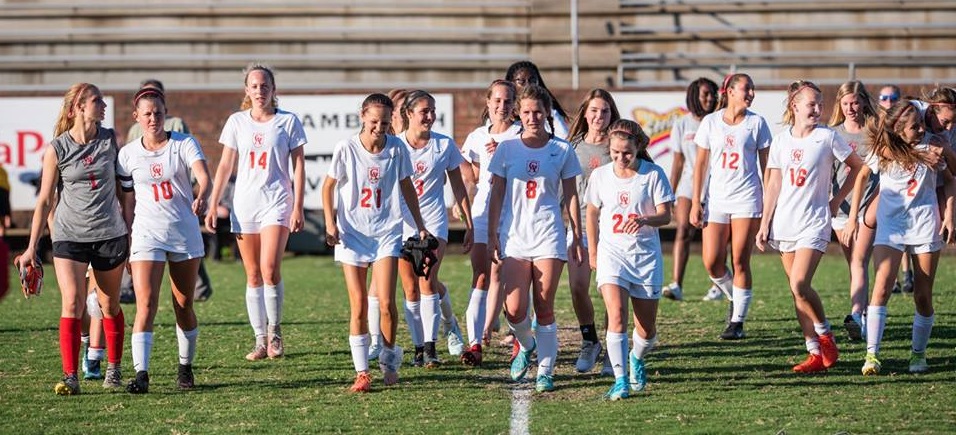 Steve Waters knows it would be unrealistic to think that the 12,000-seat Glynn County Stadium will be filled to capacity Tuesday night for the Class 6A girls state soccer semifinal between Glynn Academy and Pope.
But, the Glynn County Schools athletic director would like to see a bigger-than-usual crowd file into the spacious stadium off Fourth Street in the middle of Brunswick to cheer on the undefeated Lady Terrors as they now stand two wins away from their first-ever state championship.
"If we could get 1,000 people that would be great," Waters said. "We average around 250 to 300 people per game in the playoffs, so 1,000 would be a great crowd."
Tickets for the semifinal game are $7 per person as mandated by the Georgia High School Association. Tickets will be available at the gate. Gates will open to the stadium at 4:45 p.m.
The match is set for a 6 p.m. start between the bricks.
The Lady Terrors are making their first-ever appearance in the Final Four. The fact that they get to play on their home field makes for an even more momentous occasion.
"Anytime you get to host a playoff game, it is exciting," Waters noted. "But when you reach the Elite 8 or beyond and the stakes are incredibly high, you get very excited. No matter if it is football, basketball or soccer, when you are playing for a berth in the championship game, it is exciting."
"I would just encourage the community to come out and support these 23 players and their coaches They have had a very special season and we are extremely proud of them. However, their work is not finished and we need to have a huge crowd and make this a true home-field advantage for our team. Our girls deserve a big crowd and they need our help."
This will be the sixth home playoff game at the local stadium this postseason. Both the Glynn girls and boys hosted first- and second-round matches while the Glynn boys also hosted a quarterfinals match Saturday night which saw the Terrors suffer a gut-wrenching 2-1 overtime loss to Alpharetta in a whale of a game.
This girls semifinal has the makings to be a good one, too, but the Lady Terrors hope the final score showing on the large stadium scoreboard will be favorable for them when it's done.
It's possible that a large crowd wearing Glynn Academy red could help make the difference.
"If you are a true athlete, you love playing in front of people," Waters said. "The more people, the more exciting it is to play. We need a large crowd so we can encourage our team when they are up and maybe even when they get down.
"Fans are important. We do not want to cheer against our opponent or yell at officials, but we do want a large crowd to encourage and cheer on our team."
The fan base that has followed this Lady Terrors team all spring certainly has been treated to some championship-level soccer.
The team is currently 20-0 for the season and is ranked first in Class 6A according to Max Preps.
The Lady Terrors have posted a total of 15 shutouts including six in a row counting their final three regular-season matches and their first three state tournament games.
Glynn won its tournament opener 9-0 over Northside and won its second-round match 2-0 against Heritage-Conyers last Tuesday.
On Friday, the Lady Terrors won their Elite 8 matchup on the road at Creekview, coming away with a 1-0 win on a goal by Anna Meredith with 2:30 left in regulation.
The Lady Terrors, who went 8-0 in Region 2 play to claim the league title and top seed for the state tournament, have outscored opponents 108-6 for the season.
"This team is special," Waters said. "They are very balanced. They have three or four girls that can really score the ball and they are hard to defend.
"The difference between this team and teams in years past is the offensive balance. In years past, we have had one girl, maybe two that could score. This team has weapons all over the field. They are fun to watch and they are loaded with talent."
Pope will come to town with a top-notch squad of its own. The Greyhounds are ranked third in the state and own a 15-5-1 record.
They are the second seed out of powerful Region 7 which has three of its teams in the semifinals. Region winner Johns Creek and No. 4 seed Alpharetta are meeting in the other semifinal.
The region's third-seed, Dunwoody, was eliminated in round two by the same Creekview team that Glynn defeated Friday. Creekview won that game in a shootout after the teams were tied 1-1 through regulation and overtime.
Four of Pope's five losses this season have been to playoff teams including Lassister which is in the Class 7A semifinals, Roswell which fell in the Class 7A quarterfinals, Harrison which lost to Alpharetta in round two and Johns Creek which defeated the Greyhounds 1-0 in overtime to end the regular season. Pope also lost 1-0 to region foe Northview which did not make the playoffs.
The Greyhounds, who have outscored opponents 49-26, reached the semifinals by beating Lanier (6-1), Northgate (2-1) and Greenbrier (1-0) in the first three rounds.
Pope reached the state quarterfinals last season where it suffered a 1-0 loss to eventual state champion Harrison which defeated Johns Creek in a shootout in the title game.
The Glynn-Pope winner will advance to this year's Class 6A final which is scheduled for a noon start on Saturday at McEachern High School in Powder Springs.